No better way to kick off the crisp fall season than with Schoolcraft's annual Soccer Tailgate party and two wins for the home teams against the visiting Terra State CC. 
On Sept. 9 from 11 a.m. to 4 p.m. students, staff, alumni and campus community came together to support the Schoolcraft soccer teams and athletics programs.
Admission at the gate was $ 25 which included access to a meal catered by Mission BBQ as well as some awesome Ocelot swag. 
The women's team kicked off at noon followed by the men's game at 2 p.m.. Spectators watched the doubleheader with each team putting on a performance scoring innumerable goals, leading to two successful victories. 
The women's team, now ranked seventh in the nation in the NJCAA polls, had to knock off some rust early on as Terra State opened up the scoring from an unassisted goal by Bailey Dekoeyer at 14:00. The Ocelots settled in nicely after the opening goal by Terra State. Forward Paige Stephens got the Ocelots on the scoreboard with a goal at the 29:00 minute mark tying the game 1-1. Forward Ashley Hughes scored at 41:00 making it 2-1 going into the half.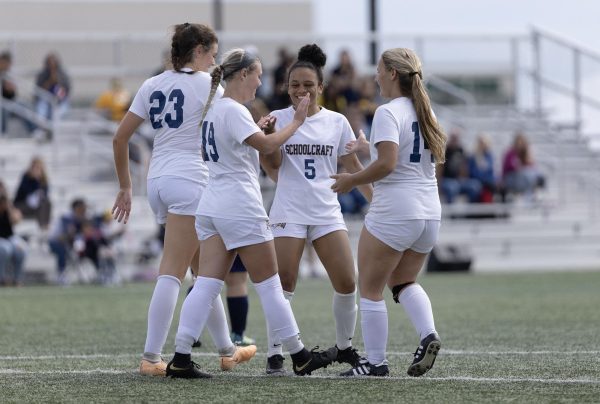 The Ocelots kept the pressure on into the second half. Forward Kyra Brandon scored a goal at the 53:00 making it 3-1 Ocelots. Defenseman Bella Elliot added another goal at 74:00, making it 4-1. 
At 79:00, Ashley Hughes tallied her second of the game putting the Ocelots up 5-1 which stayed to the end improving their record to 5-3 overall and 3-1 in the MCCAA Conference. Grabbing this win against Terra State CC boosted the team back into the win column after a tough loss to Delta the day prior. 
The men's team dominated the entire 90 minutes, securing a 14-0 win.
Schoolcraft's first goal was scored by forward Tommy Mittelstadt at 8:00. Forward Dante Davidson scored four goals in the game (15:00, 30:00, 48:00, 49:00), Forward Gavin LaMere scored at 26:00. Defenseman Diego Ayala scored a pair of goals just a few minutes apart at the 32:00 and 35:00 minute mark. Defensman Gavin Brose scored two as well a minute apart at the 52:00 and 53:00. Midfielder Alex Wenske scored on a PK at the 56:00. Forward Marco Pomponio scored two goals at 62:00 69:00. Forward Nate Boos scored a goal with five minutes left in the game at the 85:00 mark. The men's team is now 4-2-0 overall and  2-1-0 in the MCCAA conference.
For more information on schedules, rosters and stats go to www.schoolcraftocelots.com.