After graduating from Schoolcraft in 2017, Alyssa Braun transferred to Eastern MI University and graduated in Elementary-Early Childhood Teaching. Currently, she teaches in Tonda Elementary School as a favorite of fourth graders. Besides teaching, her days go by on walks with Nova (her American bulldog), hiking, gardening, spending time with family and checking off the national parks in the USA. In the chaos of life, Braun never quits to advocate for monarch butterflies.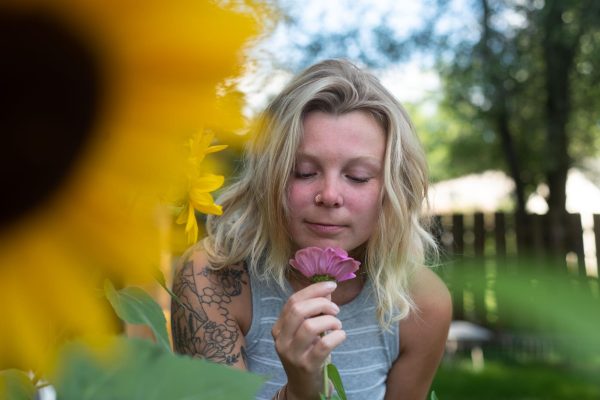 It all started when Braun moved to her current Westland residence in 2018. The natural growth of milkweed in her backyard was intriguing enough for her to research and start growing her butterflies. 
Since then, every year Braun looks for monarch eggs underneath the milkweed leaves as soon as the weather gets warm. Since environmental change influences the migratory patterns of the butterflies, their arrival is unpredictable. As soon as they arrive in Michigan, they lay eggs. She collects the off-white and oval-shaped eggs by ripping the leaf off and putting it in a lunchbox with small holes allowing for air ventilation; close inspection that will reveal vertical ridges of the eggs.. 
When the larva develops, the egg darkens in color before hatching in about three to five days. Once the eggs hatch, Braun moves the caterpillars to a habitat made with breathable, net fabric to provide airflow. She regularly provides fresh water and milkweed, which is the only food source for the caterpillars. 
Others may raise butterflies indoors in reptile containers but Braun advocates against it. 
"From the articles I've read and the people I've talked to, raising butterflies inside shields them from the natural elements they would normally be exposed to," said Braun. "Thus, the butterflies raised inside could be weaker and unable to make the long trip to Mexico when it comes time to migrate. The goal of raising monarchs is to increase their population as naturally as possible: raising them inside is more harmful than helpful," said Baun.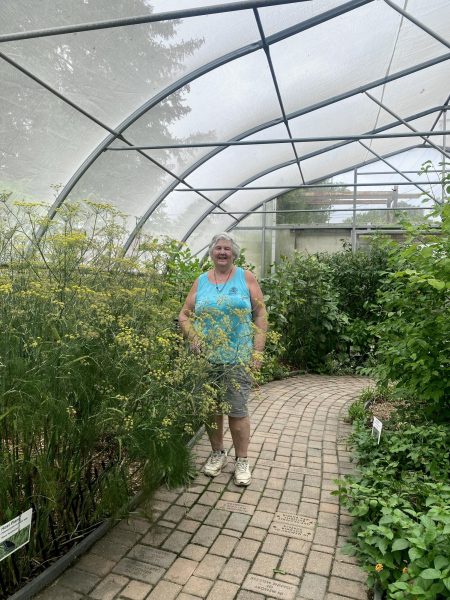 Debbie Barson from Barson's Greenhouse who has been working to raise awareness about native butterflies for years agrees with Braun. According to both of them, monarch butterflies are vulnerable because of natural predators, such as parasitic wasps, who lay their eggs on monarch caterpillars, and their larvae feed on the caterpillars. These habitats are designed to protect the monarchs from such predators without taking away natural properties. 
Braun keeps her habitat on her porch and changes the food regularly until the caterpillars grow and develop into chrysalis; which becomes transparent in about nine to 14 days. Once the chrysalis is completely transparent, the butterfly emerges. According to Braun, "It takes four to six hours for their wings to dry out but it is best to release them within 24 hours." 
Braun speaks highly of Barson's Greenhouse where she collects her habitat and native milkweed. This local nursery has been educating the community about native plants and butterflies and inspiring people like Braun.
Barson, a member of the family business says, "In 2012, a butterfly researcher named Brenda Dziedzic approached us and said that she wanted to create a butterfly house to educate the community." The Barsons loved the idea and collaborated with her in making Brenda's Butterfly Habitat: now educating elementary school kids about the native butterflies of Michigan. They also take a dollar donation in return for caterpillars to donate to Monarch Watch; a nonprofit organization based at the University of Kansas dedicated to researching monarch butterflies and preserving natural habitats. 
An additional collaborator, The South East Michigan Butterfly Association (SEMBA) also aids in the Habitat. However, these 
everyday unsung heroes of the community volunteer out of love for the butterflies. 
Despite the efforts to raise the Monarch's population, Braun fears that the lack of sightings of Monarchs this year could be due to environmental change! At the U-M Biological Station, researchers had similar concerns and investigated if elevated carbon dioxide could be responsible for the decline of these migratory majesties. In an experiment, they grew four milkweed species with different levels of the protective compounds, called cardenolides. Half the plants were grown under usual CO2 levels and the rest were bathed with almost twice that amount. They discovered that under elevated CO2 the most protective of the four milkweed species lost its medicinal properties. Monarchs are specialists in using milkweed's bitter toxins as medicine to fight predators and parasites. However, once these milkweeds bathed in elevated CO2 were fed to hundreds of caterpillars, they lost their ability to fight natural predators and parasites, and their lifespan was reduced by a week resulting in a relation between the reduction of monarch butterflies and rising carbon dioxide in the environment!
The changing environment affects all aspects of the planet including these great pollinators! Monarchs travel up to 3,000 miles each year to fly from the northeastern U.S. and southern Canada to their wintering grounds, forested highlands of central Mexico. People like Braun are idols working tirelessly to help these incredible species capable of flying at 10,000 feet elevation at 12mph. 
The Schoolcraft community can help to improve the butterfly population by volunteering at Brenda's Butterfly Habitat at 6414 Merriman Rd, Westland, MI 48185. Initiating to collect eggs to raise and protect monarchs is incredible. However, advocating against global warming and for milkweed growth are other ways one can help these majesties. 
For more information on Barson's Greenhouse and tips for starting a butterfly garden, visit  https://www.barsons.com/butterflies.