An indigenous experience for all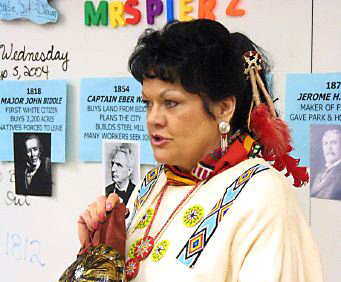 Those looking to connect with their ancestry or to learn more about a diverse culture should consider joining Schoolcraft's Native American Club. Meetings are held in LA542 with faculty advisor and sociology professor, Karen Schaumann. Specific days and times for meetings can be accessed through flyers posted in the Liberal Arts and Forum buildings. Anyone interested in attending these meetings are welcome to do so and can partake in traditional activities such as bead work, doll-making and even holiday celebrations.
"The Native American Club has been around since before I came to Schoolcraft," said Schaumann. "I became the faculty sponsor in 2007. We have many members and accept anyone, even those outside our community, to join us in connecting with the culture."
The club has many traditional activities that both men and women participate in. They do bead-work, doll-making and many other crafts.
Bead-work is an activity that Native Americans have cherished for centuries as they stitched and wove them into various jewelry pieces and clothing to wear in everyday life and also for special occasions. Much of this work was originally done all by hand until the indigenous tribes were exposed to settlers and began using slightly different techniques and patterns than those that they learned from their home tribes.
"I've been a member of the Native American Club for two years after learning about it at School Daze. I love to be close to my heritage and doing activities that I know my ancestors enjoyed," said music business major, Eloise Eordeau.
The Native American Club is also very involved in charitable events such as making ribbon skirts and shawls for the Dreamseekers Youth Program in Detroit.
This program was founded in 1978 and is through American Indian Health and Family Services. It aims to provide Native American children ages 8 to 17 with experiences relating to their culture while being surrounded by those with a similar background.
One of the major events hosted by the club each fall semester is Dia De Los Muertos otherwise known as "Ghost Supper".
"Ghost Supper" is typically celebrated Nov. 1 and 2 in both Mexico and the Native American culture with a gathering of close friends and family over a feast in honor of the deceased.
To commemorate the special occasion on campus, Schoolcraft students and members of the club bring in photographs of their loved ones and their favorite delicacies to place on an 'ofrenda' or offering table meant as an invitation to join their feast. Pan de muerto is a popular dish served at this celebration and is a type of dried bread coated with sugar and nut crumbs.
"This is a widely celebrated holiday in Native American culture. It allows us to remember those who have passed and to think about decisions we are contemplating and how they can affect future generations," Nursing major, Donaji Castro, explained in regards to the symbolism and meaning behind Dia De Los Muertos.
When asked what the holiday meant to her, Castro replied "It's a great way for me to remember people that I don't get to talk about often because of this stigma to 'move on.' I think that's what makes this club so special and unique."
The Native American club is open to anyone interested in submerging themselves in their culture or those willing to learn about an entirely new walk of life.
For more information about the club, contact the Student Activities Office at 734-462-4422 or Karen Schaumann at [email protected].