Back in time
Black Student Union to host 'speakeasy' as tribute to black history
Take a trip back in time and join the Black Student Union (BSU) as they host a 70s themed speakeasy talent show and dance Feb. 26 from 6 to 11p.m. in Lower Waterman of the VisTaTech Center. Its goal is to shed light on the history of underground clubs, called 'speakeasies' and share different aspects of black culture to the college community with food, music, clothing and historical figures in honor of Black History month.
The talent show will promote the hidden talent on our campus featuring poetry, musical acts and dance routines by the Schoolcraft College cheer team. The menu will be soul food-themed and will include signature dishes within the black community such as mac and cheese, fried chicken, cornbread and more. Since the speakeasy is 70s themed, students are encouraged to dress in disco attire or even a black panther-esque.
The history of this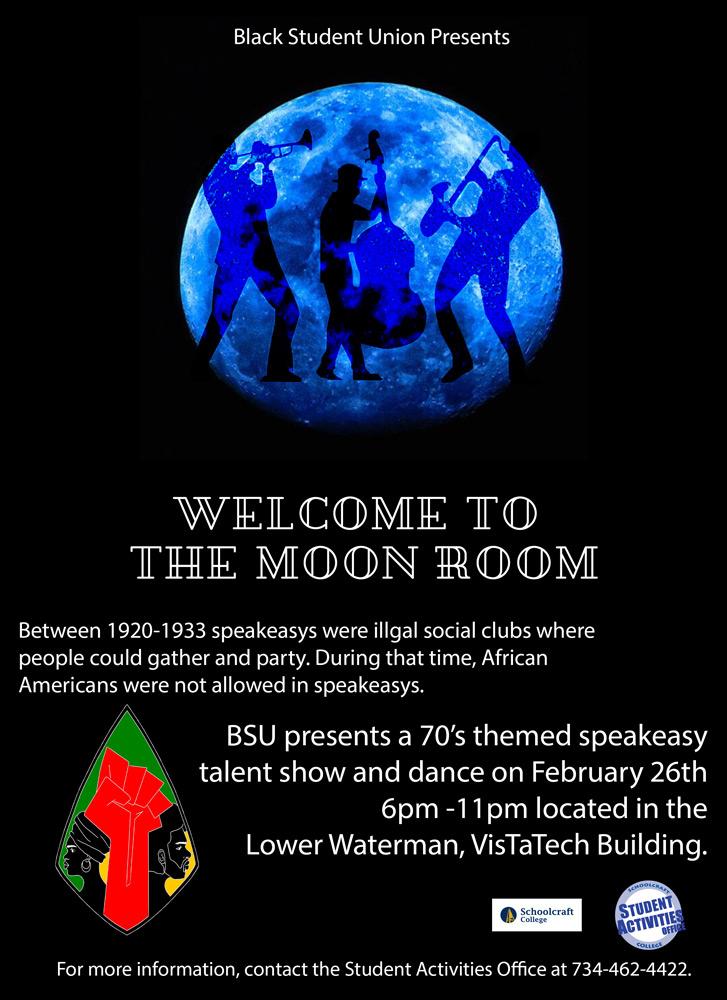 event is a nod to the prohibition era in the United States, spanning from 1920 to the early 1930s. Speakeasies were underground clubs where people would gather to drink illegal alcohol. During this period, African-American were not allowed to have a liquor license or a general place to have gatherings without dispute from the law and prejudice from their community, so speakeasies became common in African-American culture.
"This event is not just a talent show. For most people, they will attend, have a great time and then leave. For the BSU, we'll always remember this event as the moment we made history at our school," states Rian Johnson, BSU Vice President. "We are the first active BSU who put on a Black History Month tribute at the college, and that's monumental. We can't physically go back and thank all of the men and women who made it possible in our history for us to do this but if we could, this is how we would do it."
This is certainly one for the books and one for the culture of all those who attend.
For more information about this event, please contact the Student Activities Office at 734-462-4422.