Teamwork makes the dream work
Learning Center to offer remote academic services during campus closure
Even in the midst of the Coronavirus pandemic, Schoolcraft College and the Learning Center continue to go the extra mile to ensure Ocelots' academic success. This is exemplified by the remote tutoring services that the Learning Center recently launched to ensure students still receive necessary tutoring services.
"Our goal is to assist students through the uncertainty we're experiencing," states assistant director of Learning Support Services, Sharon Christian. "Technology is your friend. A lot of free applications, tutorial videos, and tools exist that can support you with remote courses in addition to our services."
Traditionally, the Learning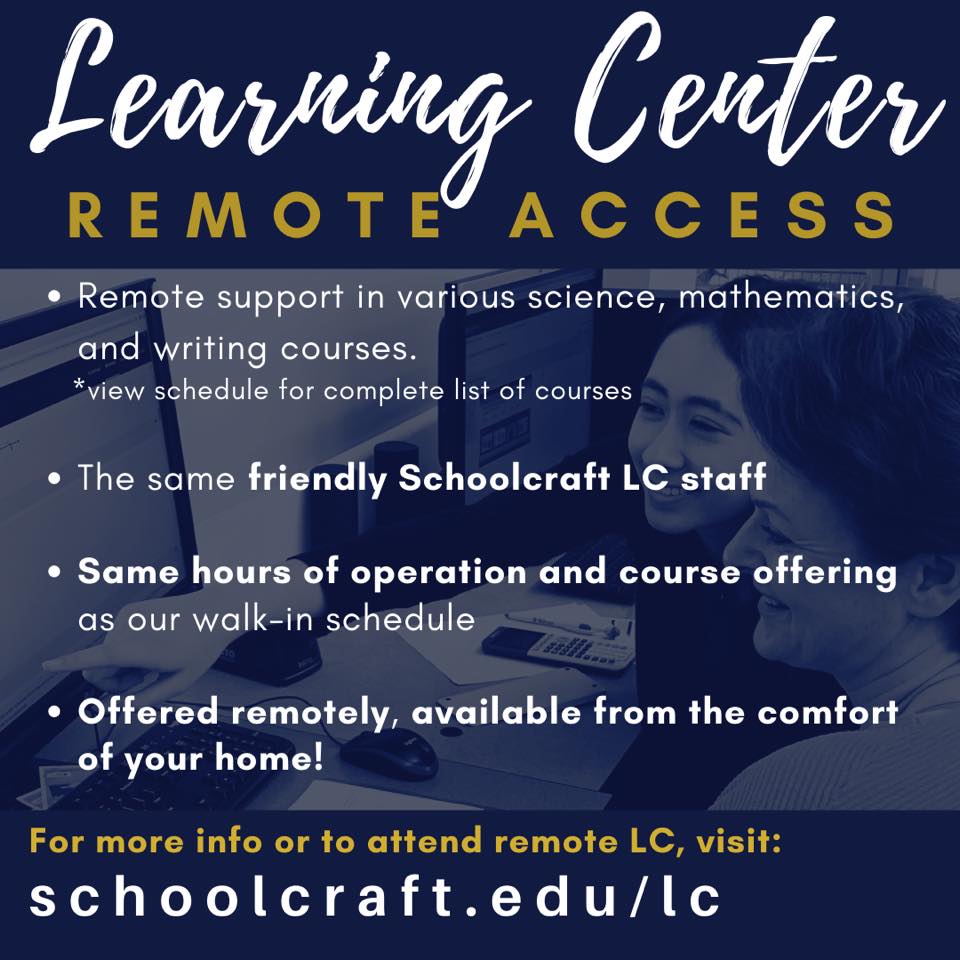 Center provides students with a multitude of tools to ensure they reach their goals. These include drop-in and appointment-based tutoring, the writing support studio and even academic success coaching for the students who struggle with interpersonal skills such as motivation and time management. Each of these services were offered based on a predetermined schedule and to maintain consistency during this time where things are changing every hour, the Learning Center will still offer them as close to the posted times as possible.
Although these services will be offered for most Accounting, Biology, Chemistry, Math and Physics courses, it's important to practice suggested skills and techniques that lead to success in a remote format. These include investing time to learn online platforms, setting personal deadlines on a calendar (print or online) to track progress on coursework and being comfortable with parameters used for quizzes and exams.
"Students can access Learning Center Remote Drop-in tutoring and Writing Support on any computer with internet by visiting our website. Google Chrome is the recommended browser to access these services," Christian advised. "Students can still request appointment-based tutoring by emailing [email protected] or calling 734-462-4436 as they did before."
For more information, visit schoolcraft.edu/lc.
Photos courtesy of Schoolcraft College