Red Wagon Project fundraising continues
Money raised will help support program and families
Neither poor weather nor a global pandemic could stop the efforts of our fellow Ocelots and Schoolcraft College's Red Wagon Project to promote early childhood literacy.
For two decades, this program has provided an opportunity for the personal enrichment of Schoolcraft students through service learning. Usually, student volunteers walk the streets of the Norwayne community of Westland with loaded wagons full of books, common school items and snacks to hand out to children in, who have limited access to materials necessary for learning. This diverse (minority enrollment 43 percent), low income community (77 percent of students qualify for free, or reduced-price lunches) community faces multiple challenges, including low literacy levels.
However, planning to reach these families this year is more complicated due to the Coronavirus's spiral into unchartered territory.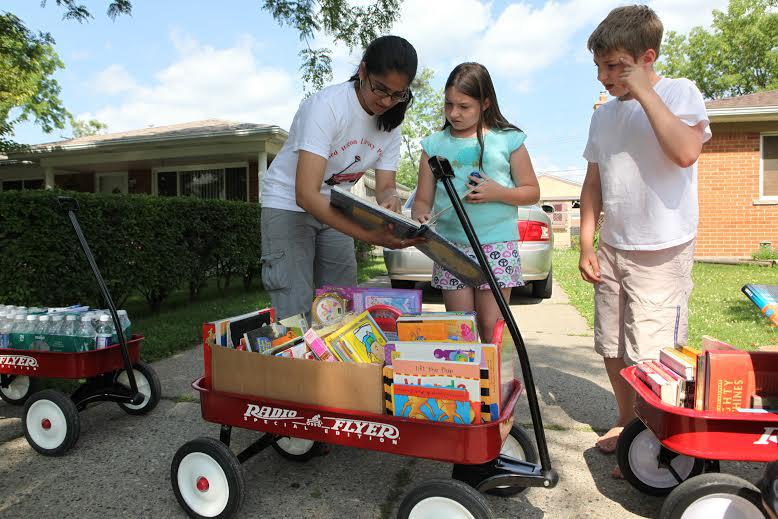 "The city of Westland faces high levels of poverty, making it common for young children to lack the proper resources to have a literacy-rich learning environment outside of school," stated Schoolcraft student, Alyssa Flevaris. "Throughout previous years, The Red Wagon program has collected donations such as books, toothbrushes, puzzles and coloring books to donate to these families… However, due to the COVID-19 pandemic, the ability to collect and deliver tangible donations is unfeasible."
Thus, the Schoolcraft Honors Scholars program concluded that if they can't collect and deliver items to Westland's inhabitants in person, they can still surely raise funds to support the program and the families it aims to assist. They created a GoFundMe page for the community to contribute to in hopes of raising $500 by the end of the winter semester May 1. As of April 16, $350 has been raised.
Students, faculty and community alike are all encouraged to participate and lend a hand in keeping the Red Wagon Project alive so that its resources can continue to reach those who need it most during COVID-19's mass uncertainty for education and accessibility to resources once available with a quick trip to the market.
The GoFundMe for this worthy cause can be found at  gofundme.com/f/the-red-wagon-program.
For more information about the Red Wagon Project or its GoFundMe mission, please contact Alyssa Flevaris at [email protected]