Home sweet home
Nursing students return to campus for health simulation scenarios
Since mid-March Schoolcraft's academic practices were turned upside down by the COVID-19 pandemic. As the virus began to spread like wildfire, the decision to move classes to a remote setting was made by the college's administration and Michigan's Governor, Gretchen Whitmer. The shift to online was in compliance with the recently lifted "Stay Home, Stay Safe" Executive Order. This proved complicated for many of our specialized courses, including but not limited to the culinary arts, manufacturing, metallurgy and most notably our nursing program.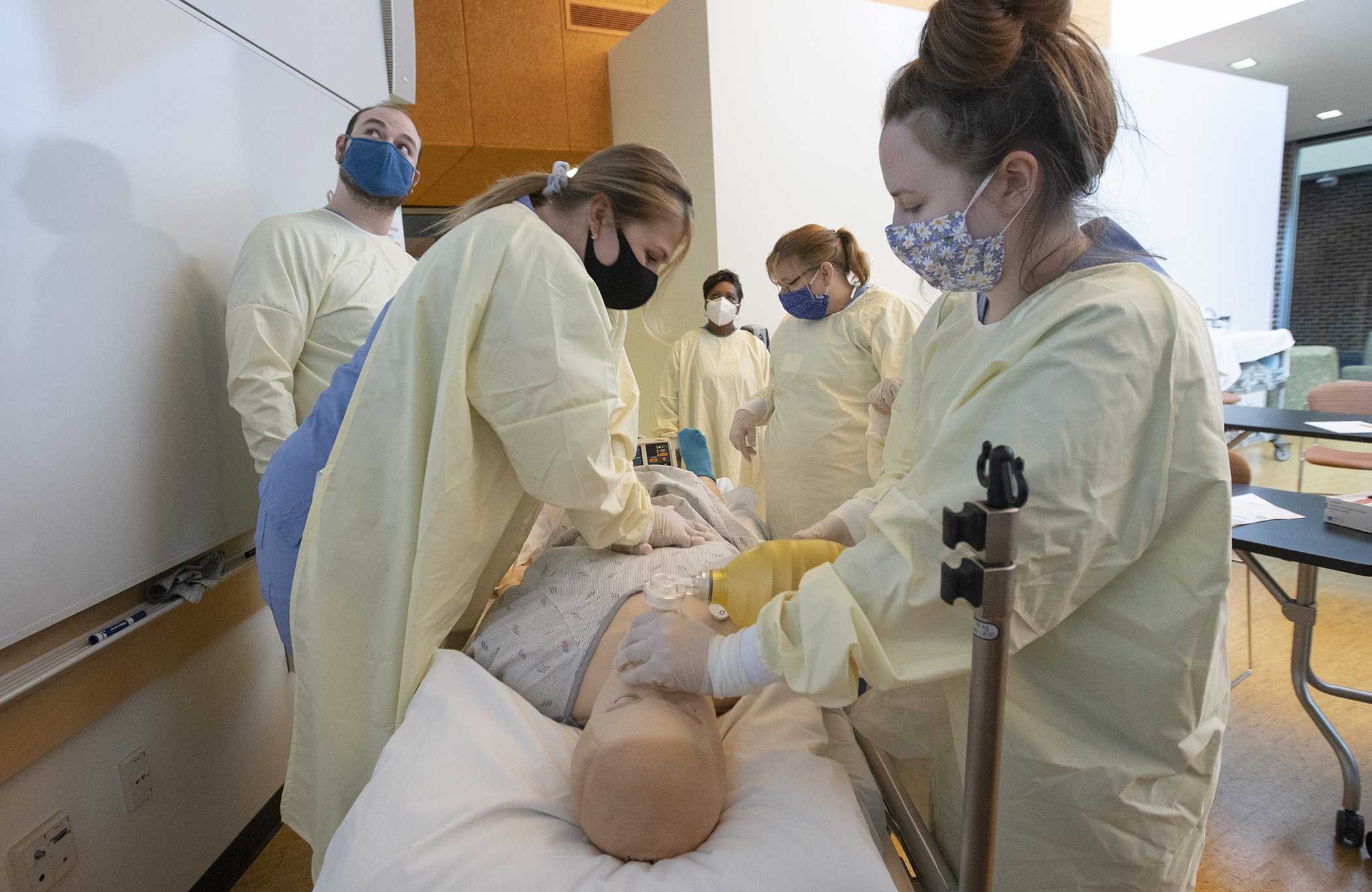 These future frontline workers can rest assured now that quarantine is over, as Nursing 205 students were welcomed back to the Biomedical Technology Center (BTC) under strict precautions. Nursing students will undergo critical thinking scenarios in our state-of-the-art simulation lab. These sessions had 4 groups comprised of 8 nursing students each. Labs took place June 16, from 11 a.m. to 3 p.m. and 4 to 8 p.m. and June 19 from 8 a.m. to noon and 1 to 5 p.m. The scenarios included practices such as End-of-Life, Intensive Care and a Code Blue (cardiac arrest) case.
To challenge and further educate these future professionals, they also were required to maintain isolation protocol where they had to maintain a sterile field when providing care, similar to how nurses are currently practicing during the pandemic.
Nursing instructor, Nancy Delnay, provided insight on this momentous occasion.
"We were excited to be able to be one of the first departments to bring students back to campus to complete hands-on labs. Since these students were unable to go to hospital clinical rotations, we felt that it is important to be able to do very realistic simulations of patient care with our lifelike manikins. This gives the students an excellent patient experience that is as close to caring for human patients as possible, yet still staying safe and healthy during a pandemic. We are very grateful that Schoolcraft has a state-of-the-art simulation lab that provides this for our students," said Delnay.
In preparation for these sessions, simulation staff attended multiple training webinars while working from home. These focused primarily on preventing student exposure to the virus in a lab setting so students could still have the opportunity to have the benefit of hands-on patient care experience in a simulated environment. According to Delnay, this builds students' confidence in a safe setting where lives are not endangered.
"The webinars enabled us to understand all the processes that go into proper cleaning and disinfecting our lab and our high-fidelity manikins, changing traffic flow patterns, using personal protective equipment, and how to maintain social distance while performing patient care. All of this will keep students safe and healthy, while still completing their educational requirements," commented Delnay.
Per COVID-19 guidelines for social distancing, students had to be screened at the Jeffress Center before attending these sessions and provide ticket upon entering the BTC to the building proctor. There also were designated entrance and exit doors located at BTC 215 and 245 respectively. In addition, students were required to wear masks while in the building and only 3 people at a time will be able to perform patient care. The remaining group members watched via livestream in BTC 225 with instructor guidance on where to pay special attention and take notes.
Although COVID-19 has presented many challenges, it's evident that Schoolcraft's faculty and departments will continue to take all necessary measures to protect students' health and to provide the highest quality education possible.
For more information about the nursing program, go to schoolcraft.edu/academics/healthcare-and-health-sciences/nursing.
________________________________________________________________________________________________________________
FEATURE PHOTO: Spring Nursing 205 students attend to a patient during an ICU scenario on June 16, 2020.
Photos courtesy of Schoolcraft College
About the Contributor
Madison Ling, Campus Life Editor
So, we meet again or possibly for the first time... Either way, hello and welcome to the Connection's domain. I'm the one and only Madison Ling, who...