Sugar, spice and everything nice
Culinary alumnus, Billy Earles, opens "So Delish" bakery in Livonia
It's commonly said that variety is the spice of life. This must be why Schoolcraft alumnus Billy Earles' bakery "So Delish" is so Successful. After all, he's no stranger to the idea.
Cakes, cupcakes, donuts, pies, cookies and more. Earles does it all in his Livonia business that he calls "a little bakery that does big things," and evidently, he's not wrong.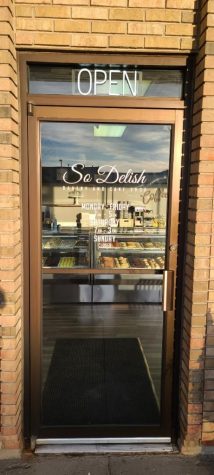 "So Delish" became an overnight hit and soon after its inception, Livonia customers flocked to the bakery to discover if it was truly worthy of the title. According to all the repeat customers and the bakery's increasing demand, it was more than earned and the story behind it is even more compelling. "So Delish" tells the story of a man who had a dream that he refused to give up on and ultimately achieved it through hard work and dedication.
"I worked at another bakery for almost 13 years and was originally supposed to buy it when the owners wanted to retire. Things didn't work out so I left and started doing baked goods out of my house. Baking from home was a real challenge, and the more customers I got, the busier I got and the harder it was to maintain," Earles explained. "Months after I started at home, an opportunity came up to purchase some equipment and rent a space I had actually looked at before, and I took it… in March… right before the world shut down."
Despite this challenge, Earles rose to the occasion with the help of his head baker, Mikael Cushman. With Earles handling the day baking and Cushman handling the night, the pair were unstoppable. Due to his experiences, Earles urges anyone who finds themselves in front of "So Delish's" doors to give his bakery a chance. He recommends ordering the baked donuts, (especially the apple fritters), their fan-favorite cinnamon raisin rolls and their cinnamon crunch coffee cake.
Earles promises that the product is what distinguishes his business from others. 
"We use quality ingredients and bake daily. Our attention to detail and dedication to satisfaction is what will keep us going for years to come," he says.
Earle's customers agree with him when it comes to quality ingredients:
"It is always exciting and rewarding to see our graduates successful in the industry, especially someone as talented, humble and hard-working as Billy," explains Schoolcraft College Café Manager and Adjunct Faculty, Chef Heather Moore. "I remember Billy excelling and having natural talent during his time here at Schoolcraft, it has been such a pleasure watching his progress through the years. My family and I just visited "So Delish" this weekend, my daughter devoured the cinnamon roll and is already asking when we can go back. I highly suggest Billy's pineapple upside-down cake."
That's not where the commendations end either. Schoolcraft's Recreation Manager for the Fitness Center and Sports Dome, Patty Donohue-Ebach also had praise to give to "So Delish."
"We ordered specialty cupcakes for my daughter's 18th birthday in February and then specialty cookies for her graduation party in July. Rave reviews on both orders!"
Earles credits his vast amount of experience in the industry for his accomplishments, but he also believes it wouldn't have been possible without the help and support of his friends and family. In the future, he hopes to further his achievements by expanding the bakery's menu to include even more variety for his eager and loyal customers. 
With his success being almost as sweet as the desserts he sells, Earles and Cushman will strive to continue reinventing the baking world. 
For those interested, consider visiting "So Delish" at 33825 Five Mile Road or call 734-744-4080 to obtain more information. You can also visit their Facebook page here: facebook.com/SoDelishBakeryandCakeShop/.