A strong foundation
College adds Real Estate Property Management program for Winter 2021
Looking for a rewarding and fulfilling job opportunity? Schoolcraft has that covered with the new Real Estate Property Management (REPM) program.
Starting in winter 2021, the REPM certificate path will give students the chance to learn about managing residential and commercial properties such as homes, apartments, offices, retail centers, medical facilities and industrial warehouses for profit.
Property management is more complex than some may think and can be rewarding to those who learn the tricks of the trade. The program lists several responsibilities that come with working in this field, such as maintenance, improvements and sustainability. Through their course work, students will learn how to interact with tenants, management skills and how to support property through negotiation. Financial literacy is crucial to being successful in real estate, so naturally financial management is also taught in the course. Students will learn budgeting, accounting, investment and financing during their courses. Legal and risk management is also a pivotal aspect of this field which includes insurance, emergency planning, government regulations, contracts and leasing.
"We are pleased that Schoolcraft College is the first local community college to offer a program in Real Estate Property Management," explained Dr. Robert Leadley, Dean of Occupational Programs and Economic Development in an interview with Schoolcraft. "Our continuing dialogue with business leaders who form our Advisory Board showed an immediate and ongoing need for new employees and employees with increased skills and knowledge in this important area."
While individuals can enter the field without a degree, those who do will have the best opportunity for a job in this field according to the Bureau of Labor Statistics (BLS). Additionally, with an aging population, job opportunities are expected for those with experience managing retirement centers, age-restricted communities, and healthcare facilities. Lastly, as of May 2019, the median annual wage for property, real estate, and community association managers was $58,760 according to the BLS. Those looking at entering the field could eventually make more than the median American household income of $68,703, a household being the combined income of individuals 15 and older living together.
Schoolcraft is issuing a Skill Certificate, a Certificate and an Associate of Applied Science through this program.
Here is what these entail: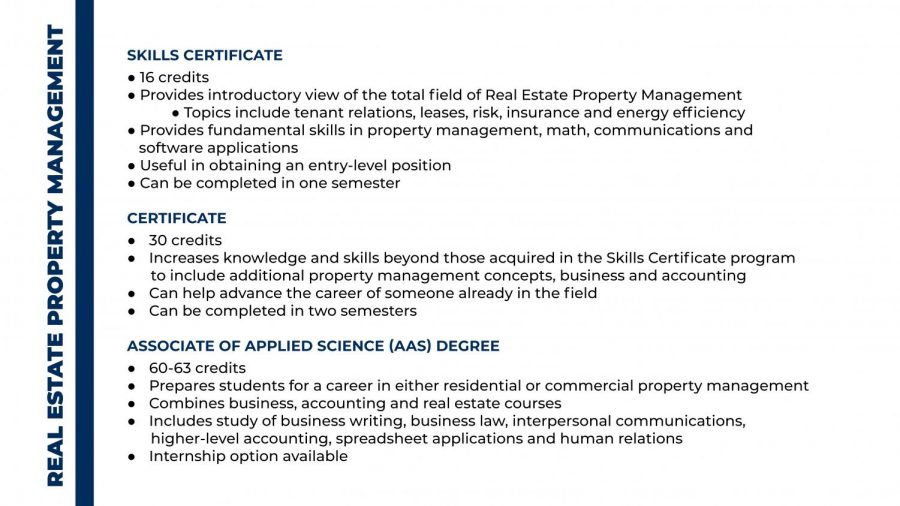 This new program removes the guesswork for those looking to get involved in real estate. To be a part of the new program you can register for winter courses beginning on Sat, Oct. 31. More details about specific classes that are part of Schoolcraft's Real Estate Property Management Program can be found here.
The classes for the REPM program will begin Monday, Jan. 11, 2021.
For additional information about the Real Estate Property Management Program, please contact the Education and Occupational Program Office at: [email protected].