Hail to the chief
President-elect, Joe Biden, announced as leader of the United States
The wait is finally over and Joe Biden has emerged victorious in this year's American election, just five days after Super Tuesday. Now that he has won 270 electoral votes, Biden will soon be inaugurated into the Oval Office and begin his responsibilities as the 46th president of the United States Jan. 20.
In honor of this year's election, the Student Activities Board (SAB) and Schoolcraft Connection collaborated to bring voting to the campus virtually. In fact, 519 people voted in the mock election on the Schoolcraft Connection's main page.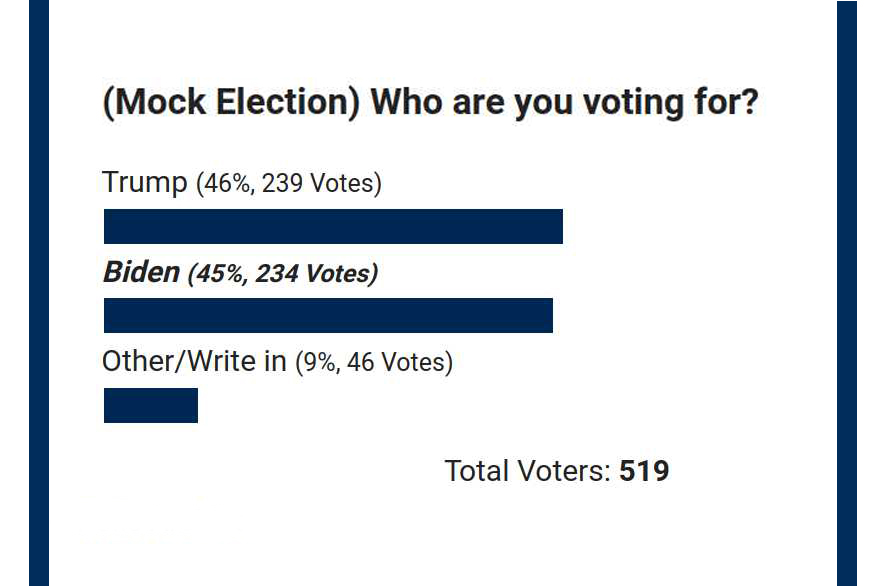 This poll emulated just how close the 2020 election was, which is an interesting detail considering just how pivotal Wayne County was in turning Michigan to the democrat blue.
The poll predicted Donald Trump in the first-place position with 239 people taking up 46 percent of the vote. Meanwhile, 234 people voted for Biden on and comprised 45 percent of the vote, making only five people and 1 percent less than Trump's statistics. Finally, 46 people chose the other/write in option which took up the remaining 9 percent.
This was a very close race both emulated and in reality. Now, we and many other Americans eagerly await to see what happens next in the Oval Office.