A small step forward
Schoolcraft distribution site for Wayne County COVID vaccinations
It has been nearly a year since our lives have changed. March 10 marks the anniversary of Michigan going into lockdown due to COVID-19. Society has drastically shifted to circumvent its grasp, but for staff and elders at Schoolcraft, this reality may soon change. With the combined effort of the Wayne County Public Health Department (WCPHD) and the college itself.
Since late January, the COVID-19 Moderna vaccine has be distributed on campus in the DiPonio room of the VisTaTech Center via invitation for groups in phase 1A and 1B.
"We were a pod back in 2009-2010 with the swine flu because of the nature of our P.E. building and ability to house a significant amount of people," explains Dr. Glenn Cerny, President of Schoolcraft College. "With VisTaTech, that's a fairly large facility as well. They reached out to us to see if we wanted to operate within the vaccination process and so we already had a letter of agreement in terms of operating as an emergency pod for the county that made it easy."
Healthcare workers, Emergency Medical Services (EMS) and frontline essential workers who are critical in infrastructure will also be given the vaccine as per phase 1A and 1B guidelines. Because of this, the National Guard and nursing students are also able to assist in the vaccination process.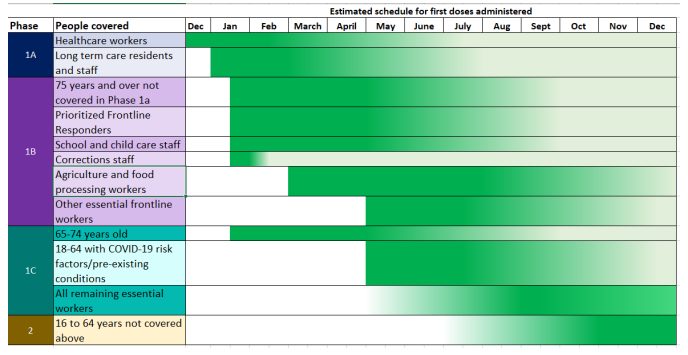 "They were managing up to about 22,000 people a day getting shots, the problem is they were planning on doing it Monday through Saturday, but because of the lack of vaccine available, they've had to adjust their schedule every week," Cerny States.
Those who wish to receive the COVID-19 vaccine were to do so by completing the private two-minute survey that had been sent out via email so that the information could be used by the WCPHD to order the correct number of vaccines for use.
"Right now, they're doing teachers in the K-12 District," Cerny informs. "Plymouth, Canton and Livonia teachers have been going in and getting their shot, so we think that's good for the college because part of our attraction is being able to support the community."
The Moderna vaccine will be distributed through two doses that are separated by 28 days.
Vaccinations are voluntary, but masks are not. Those who would prefer to wait are not obligated to receive the vaccine, but those who do receive their vaccinations must wear masks to their appointment. After receiving the vaccination, recipients will be asked to wait in the Kehrl Auditorium for 15 minutes before leaving to ensure no health concerns appear.
While Schoolcraft has been hard at work setting this up, over 28 million Americans have tested positive for COVID, but the number of Americans who have had the virus is likely much larger. Beyond this, over 500,000 Americans died after contracting the virus compared to the 2.4 million people who have died worldwide. This means that one in every five deaths was a U.S. citizen. Despite this, the Johnson & Johnson vaccine has also joined the ranks of Pfizer and Moderna in saving lives.
By Nov. 15, 2020, the rate of cases in Michigan was estimated to be the sixth highest in the United States. Because of this, Governor Whitmer instituted the "Pause to Save Lives" program in an attempt to flatten the curve. This initiative aimed to temporarily close business deemed nonessential while necessary businesses such as health care facilities were kept in operation. Now, Michigan is deemed to be the 47th in the country.
With testing now easily accessible to the public, health professionals recommend doing so if in close contact with somebody who has COVID-19, were part of a mass gathering, have symptoms or have been notified by the health department.
Memorial Healthcare in partnership with Wayne County has brought Mobile COVID testing facilities to the residents of Wayne County to provide a hassle free COVID-19 testing experience. Using https://memorialclarity.com/, testing can be scheduled at 46202 Heritage Park in Canton located in the North Pavilion Parking Lot Monday through Friday, 9 a.m. to 6:30 p.m. Saturday appointments are also held between 9 a.m. and 1 p.m. Picture I.D., insurance and a mask (available on-site) are mandatory. Without insurance, the price of the test is $110.
Any questions about registering, testing, or billing can be directed to (424)-419-1381.
Information gathered during a presentation by Dr. Emily Somers, and Kara Gavin. This event was recorded and may be found here.
For more vaccine information, please click here.