Passion and pride
Schoolcraft alumna publishes children's book based around Indian culture
Urmila Bilgi moved to Michigan in 2008, leaving her home in India behind with one goal in mind: she would go on to one day develop educational and entertaining content that is suitable for children. With this objective to work toward, she set off to accomplish her dream and after years of hard work and effort, she would release her own book into the world.
Morāmbā, which was released on March 24, is summarized on Amazon with the following description: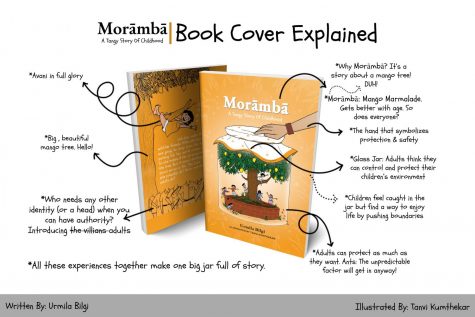 "The '90s middle-class Indian society embraces traditional, even unreasonable adult-kid hierarchy. But what happens when a strong-willed, 8-year old girl stands up to adult authority to protect her and her friends' interests? Join Avani and her friends' misadventures in this chapter book."
This story was not, however, written overnight. The first stop on Bilgi's 13 year journey began in 2008 with her pursuit of a degree in Children's Literature from Eastern Michigan University. This allowed the future author to focus on a specific medium and gave her the tools she needed to write about her childhood, a central aspect of the book.
"In the popular media, India is portrayed as grandeur and exotic." Bilgi states. "Without a doubt, many subcultures in India are rich and colorful. On the other hand, images of poverty and primitive culture are also dominant. However, the widespread middle-class life in India is hardly represented. Morāmbā is my effort to shed some light on the topic."
Bilgi's heritage as a whole is a pivotal to the story of Morāmbā. She deplores the hierarchical nature of India and feels that this system is harmful specifically to children. With her own experience as a child in the 90's, she believes that this is the perfect decade to explore the themes of the book. The constant globalization which led to the spread of materialism is an idea she wanted to view through the eyes of a child. Cars became common among families which led to trees being cut down to make way for parking lots in front of apartment complexes and other buildings. What would this change look like from a child's perspective?
"Being creative at heart, I have enjoyed writing since high school," explains Bilgi. "I wasn't only passionate about writing but also finding stories that could add value to our lives. So, I studied journalism and started working as a freelance reporter since my undergrad. As part of my final project in my master's program in India, I wrote a paper on a popular children's newspaper." It was this research that inspired Bilgi to pursue content creation geared toward children. 
Two years later in 2010, Bilgi found herself at Schoolcraft with the new goal of honing her technology skills. A creative writing class with Professor Dolgin was the inspiration Bilgi needed to turn this dream into a reality. Her goal now realized, Bilgi began the long and arduous process of writing. The bulk of the book was written as homework for Professor Dolgin's class who was always supportive of the endeavor. In the meantime, she would work on the cover in her InDesign class which gave the future author a greater respect and understanding of programs such as layout, photoshop and illustrator. Despite this momentum, Bilgi's work on Morāmbā began to slow. Eventually, the self-doubt, stress and baggage that came with the work resulted in her shelving the project.
 The book sat for eight years until Bilgi received her call to action after losing two friends. She was reminded of her original goal to create content for children and had newfound inspiration to finally accomplish the dream almost a decade later.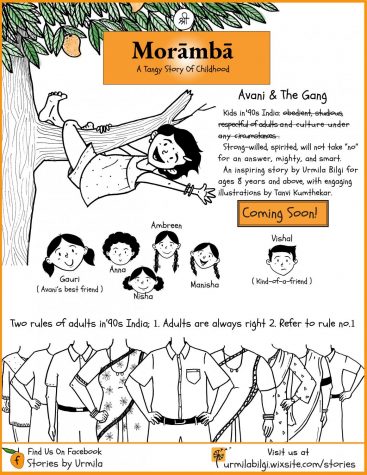 With renewed focus, Bilgi recovered her work, finally ready to complete it all those years later. This is when she ran into a unique issue: so much time had passed that her perspective changed. Bigli experienced her childhood throughout the 90's in India where she had to endure many hierarchical struggles. It was through this her narrative was born. Now a parent of two, she realized that her story was written through the eyes of a child dealing with unreasonable adults. How would she justify this perspective while instilling the fact that adults are not inherently evil, but instead flawed. 
With a new challenge on the horizon, Bilgi now saw that no matter how gentle a parenting philosophy may be, it's natural sometimes to get angry with children. That being said, Bilgi would always explain her decisions and emotions to her children so they would have a greater understanding of the choices she made. This is the perspective she went into finishing Morāmbā with.
Completing the book was no easy feat. Since her vision had changed so drastically from her previously bleak outlook, it took years to rewrite and edit certain sections before meeting Bilgi's standards. This work was not for nothing, however, because once the edits were done, the book was finally ready to be published.
The 11-year journey had been complete.
With her dream now accomplished, Bilgi hopes readers appreciate her vision as much as she does.
"Take the time to savor every moment while reading the book." Bilgi explains to potential buyers. "The '90s was the last decade before the dot-com era changed the simple way of life. If you are a kid reading the book, you might relate to Avani's POV — adults haven't changed that much, have they? If you are an adult reading, you might be nostalgic. If you are an outsider to this culture, here's a dose of authentic Indian culture."
Morāmbā has left a memorable mark on those who have read it, as seen by it's five-star rating on Amazon. One child who had read the book went as far as to tell Bilgi that she understands children more than her own mother, to which Bilgi replied "I bet my kids don't think so!"
There's a recurring theme within Morāmbā that demonstrates making the best out of the small things and living simply despite the rapidly advancing and complex nature of the time. 
Bilgi chose to do this, so children could feel seen in their beliefs while adults could feel nostalgic for a bygone era. Beyond all else, she hopes that her book teaches others to be kind and reasonable to all humans despite what walk of life they come from.
For more information on Bilgi, visit her blog on the book's central idea: https://urmilabilgi.wixsite.com/stories/blog.
To purchase Morāmbā, visit: https://www.amazon.com/Mor%C4%81mb%C4%81-Tangy-Childhood-Urmila-Bilgi-ebook/dp/B0912BRD6X
Check out this interview with Urmila Bilgi regarding her journey on becoming a published author
https://www.youtube.com/watch?v=U_8fZCywNRg&t=41s