Compliments to the chef
Culinary Arts student Austin Hannah wins silver in national competition
Austin Hannah has been surrounded by cooking all his life. With a mother who would cook big, elaborate meals for the holidays, and a grandmother who was always baking, it's no surprise that he would soon become an accomplished cook himself. Now with a silver medal in the National Student Chef of the Year Competition, Hannah has gone a long way since his days of high school where this future chef found his calling.
"I didn't really find cooking until my junior year of high school at Saline. They offered a culinary program that was run by Sam Musto, who is also an instructor at Schoolcraft," Hannah explains. "I got into it my sophomore year and that was when I met chef Polly Brown. She worked underneath him. I just started cooking for fun and it was just something that I was wanting to learn how to do just for life purposes."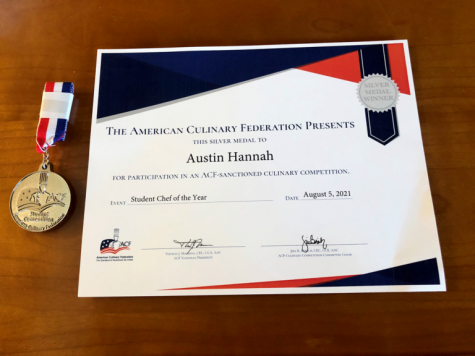 Hannah was already a competitive student in high school, participating in sports such as football, basketball, track and ultimate Frisbee, so cooking served as another outlet to showcase his skills.
With the support of these individuals as well as Schoolcraft Culinary instructors Chefs Shawn Loving, Brian Beland and Chris Misiak along with his family and fiance at his side, Hannah feels lucky in that he has so much support.
It was this support group that helped him arrive at a local ACF (American Culinary Federation) competition nominated by chef Loving in 2019. Hannah would go on to win the competition and as a result was titled Regional Student chef of the Year. With this accomplishment, National Student chef of the Year was now in his sights.
In August 2021, Hannah found himself at the national competition held in Orlando, Florida, from Aug. 2-5 an event sponsored by the American Culinary Foundation (ACF). Competing in the Hot Foods division, he endured a two-hour competition consisting of a marketbasket filled with proteins such as lobster, flat iron scallops and pancetta. On top of this, Hannah also worked with several vegetables and starches. Every ingredient was required to be utilized in dishes. The judges also based their verdicts off professionalism, competency, taste and flavors, sanitation and techniques.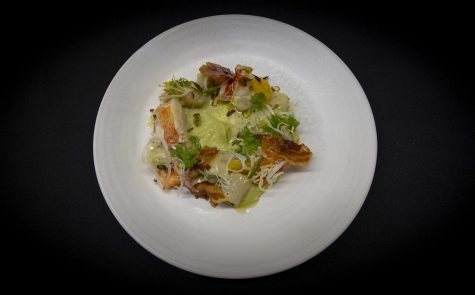 As a result of Hannah's skill in the kitchen, he was awarded second place overall (the silver medal) in the competition which made him the best Hot Food candidate and beat out of the other 8 competitors in his category.
"You feel like a winner, no matter what," states Hannah. "You walk away from the whole experience learning such a great deal and you can't help, but walk away feeling like a winner. I feel like I placed first to be completely honest. I took away more from that than I think anyone else could have."
Experience is the bottom line for Hannah. He believes that even if he had won nothing he would be just as happy due to the honor and knowledge gained from participating in the event. He also knows how difficult breaking into cooking as a career can be for newcomers and veterans alike of the art.
"I think that for those who are coming into the culinary program and aren't sure exactly where this is going to lead them, but if they want to be a chef, I just always encourage them to go for it, put yourself out there, make yourself uncomfortable, go through those certifications."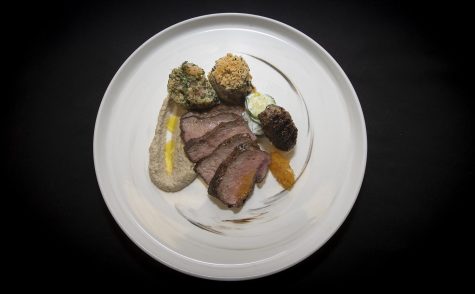 Hannah views these certifications as vital when it comes to learning the craft. They are a controversial topic wherein many opinions differ on their effectiveness and utility, but for Hannah, having chef Loving as a mentor has cemented his trust in them.
"The culinary industry is this giant wave and there's so many people. There are so many restaurants. So there's this giant wave of just cooks, but only so many. There can only be so many surfers on this wave." Hannah views this as a way to be distinguishable from other chefs.
Well on the way to mastering his craft, Hannah continues to hone his skills when it comes to all things cooking and plans to pursue more competitions such as this one in the future.
Check out the Schoolcraft Connection's sit down chat with Austin Hannah at https://youtu.be/e7c52wv-k4Y