Steward of Democracy
Schoolcraft alumnus awarded Michigan Township Clerk of the Year
Discussing politics over the Thanksgiving or Christmas dinner table may seem like a taboo subject to some, especially when adding extended family into the mix, but others like Canton Townships, Michael Siegrist, have dedicated their lives to the topic. One such way to do so is by ensuring the sanctity of elections through becoming a municipal clerk. These people are known as Stewards of Democracy and this Schoolcraft alumnus is one such person.
Siegrist had no plans to become a clerk. Much less to be presented the Michigan Association of Municipal Clerks (MAMC) Township Clerk of the Year award by Michigan Secretary of State Jocelyn Benson, but life works in mysterious ways.
In 2010, he began his political journey as a precinct inspector for county clerk Terry Bennett all the while serving on the Absentee County Board as chair.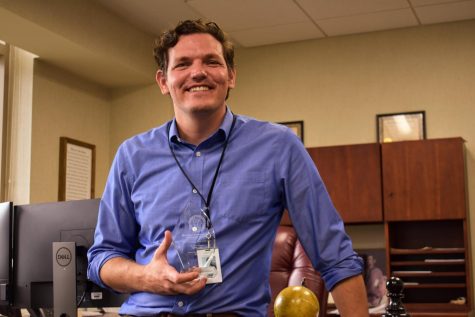 "It felt good. It felt like an act of service to my community," Siegrist states. "It's kind of like jury duty. Some people complain and they whine and they moan, but if someone gets charged with a crime they didn't commit, man, you really like the idea of an impartial jury of your peers, protecting you from the government and violating due process of law."
Now, as a clerk himself, taking over Bennett's seat after her retirement, Siegrist finds his time split between two different scenarios.
Outside of election seasons, Siegrist has fewer responsibilities to account for. As an elected member of the Township Board and legislator, he must vote on business before the township to appropriate funds in order to approve the budget along with all the other clerical bureaucratic functions.
As a clerk, he is also part of the Board of Trustees, which he serves on as secretary. In that position, Siegrist records the minutes for each meeting and coordinates every zoom call that occurs. He helps create the board packets, agendas and all legal postings for the township. His office controls and regulates business licenses for the township.
On top of all of this, they also maintain the voter file whether that be people who are registered, deceased or removed in Canton township. All Freedom of Information Act requests are done through this office as well. The ultimate goal here is to connect people to their government.
During an election is when things begin to ramp up. Voter registration becomes a more common event and absentee mail-in ballots have been rapidly increasing in frequency every year. Siegrist notes that this is not only because of the pandemic. While it did cause a bump, this trend has been occurring for years. Then comes orchestrating an election for the 40 precincts within Canton township. As the ninth largest municipality in Michigan, there is a lot of work that comes with the process. Siegrist calls it a full-time job doing so in a way that eliminates barriers, but a satisfying one.
This type of career growth doesn't happen overnight. Once upon a time, Siegrist worked in tax and finance, but when Bennet retired in 2016 while Siegrist was serving on the Plymouth Canton School Board. With his interest in history and voting rights, he chose to run for clerk. This all started with a passion for civics and an undergraduate in political science. From there, Siegrist continued to explore his place in the world by serving his community.
As a result of Siegrist's position, he has learned a lot about government.
"The election process is extremely complicated, extremely layered. And there are so many built in checks and balances," he explains. "What I learned by being a clerk and participating in the process is how many people participate in it. To deliver elections is like a symphony and every jurisdiction comes together in the country. Every state, including the District of Columbia all come together and orchestrate their final day of voting."
No matter the conditions, whether there is a pandemic or not, Siegrist must be ready on Election Day every two and four years. They must be prepared for threats of violence, militias, misinformation, foreign government, fraud and other obstacles to the democratic process.
Siegrist also holds a deep faith and respect for the system.
"Whether or not a local clerk is a Republican or a Democrat, whether it's an urban or a rural community, whether it's Michigan, Nevada, Colorado, or the District of Columbia, knowing what I've learned about the process, I would feel comfortable casting my ballot in any jurisdiction with any election official, counting my vote, knowing full well that it is going to be counted and tabulated exactly how I voted."
He sees this as the beauty of the system. A right that is foreign to many countries throughout the world. Because there is always election interference from foreign governments, Siegrist aims to curb such issues that lead to voter manipulation.
As a result of his passion for the job, he was very grateful when he won Michigan Association of Municipal Clerks Township Clerk of the Year this past September during a ceremony held in Frankenmuth, Michigan.
"I was surprised because there are so many amazing people out there who do this job," he explains. "I felt like I got to take credit for a lot of the hard work of my staff in a lot of ways, but more importantly, just extremely grateful and humbled in a lot of ways."
With five years under his belt as one of the youngest clerks in the state of Michigan, Siegrist was up against a lot of experience, but he believes that it was due to the help of those within his office and how hard they worked to perfect each process of the system. He felt like this passion his office had put in was being acknowledged.
Siegrist hopes that others follow in his lead in maintaining the sanctity of elections. Those interested in doing so may by contacting local clerks and asking how they could get involved in the election process. There are elections almost every year and participating in the process will result in payment, education and a newfound respect for the democratic process. From there, aspiring clerks can get their Certified Election Registration Administrator (CERA) certificate at the Election Center and/or a certificate from the University of Minnesota. Siegrist is in the process of accomplishing both.
With so much already accomplished, this former Schoolcraft alumnus continues to serve the community. Whether he's keeping elections honest, or managing the precincts within Canton, Siegrist wouldn't have it any other way. With a passion for honor and integrity, he is a true steward of democracy.