A worthy sacrifice
Yokai plays deathcore like it should be
Michigan death-metal band Yokai recently released "Sacrificial," their very first LP Oct. 1. Anyone who attended the release show held by the band would know that this album embodies the same energy of that night. The energy is something else. It is cathartic violence, an entire room of people on exactly the same wavelength, and every one of them is carrying some kind of damage. A mosh-pit is the ultimate display of frustration, yet one of the most wholesome. Bodies fly back and forth, propelling one another across the open floor. The pit can be dangerous, but the people around are trustworthy. They watch out for each other and will pick up those who fall. This was exactly the scene at the album release show.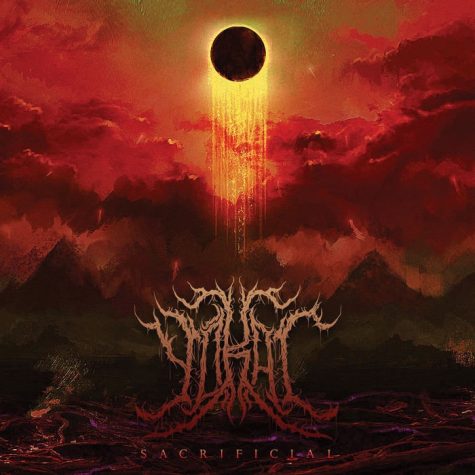 There's a quality to "Sacrificial" that makes turning it off a challenge. From the moment the music begins in track 1, "The Absence of Light" (feat. Jalen Wallace), lead guitarist Jordan Lawrence's riffs are the perfect blend of smooth groove and technical aggression that are emblematic of modern deathcore. This is the kind of music that could either be danced or fought to; and the bassist (Christian Miracle) and drummer (Tim Gorman) are right there with him.
Other notable tracks include "Throes of Denial" and "The One That Feeds," each of which shows off the unbridled talent of Yokai's vocalist Zack Clendennin. Clendennin is ferocious. The way he unleashes such raw power through his vocals is truly astonishing – and an absolute blast to see live. Feature vocalists Jalen Wallace of Carnis Immortalis and Nic Cummings of Until Solace also bring the heat in their features in "Absence of Light" and "Yūrei," respectively.
Track two, "Immolation" is as explosive as it sounds. The rhythm of this piece speaks to listeners on a deeper level, somewhere guttural. Speaking of explosive, If someone were to ask what "blast beats" are, show them the album's sixth track, "Sacrificial."
Gorman has played shows with other bands before, but his skills never cease to impress. It will bring them back to every mosh pit they've ever been in. It's reminiscent of the violent jostling, the complete lack of bodily control, riding a wave of the purest aggression. Clendennin's vocals in this track especially come through. He shows off his range, from demonic shouting to animalistic growling, putting the listener in their place. Jordan Lawrence and Christian Miracle give him a professional-grade backing track to let loose to, complete with riffs, fills and breakdowns that keep the song storming along in a jazzy deathcore tempo. Lawrence in this track is particularly admirable. One can feel a passion for the art in the way he makes audio-violence sound so fun.
"Sacrificial" will bring listeners back to what they love about metal. It's angry to the point of catharsis. It's exactly what they've been missing without shows over the last year-and-a-half. All that pent-up aggression will dissipate. All the fear and stress from the last year expressed by a skilled artist, and for that feeling to be shared by the crowd? It's a vibe on another level.
Yokai does exactly what metal should do with "Sacrificial," they invite listeners to break a chair over all those feelings and jump in the mosh-pit. This is a refreshing experience with hardcore music that has been long awaited.
For more information on the band go to: https://linktr.ee/yokaibandofficial