Don't have a Heart Attack, man!
Heart Attack Man's new EP, "Thoughtz and Prayerz" delivers palpitations to listeners
Ratings: 8/10
Heart Attack Man exists at a comfortable level between hardcore and pop-punk. Their new EP, "Thoughtz & Prayerz," dropped Nov. 5 and was their first release since 2019's "Fake Blood," which was released to much acclaim. The Cleveland-based group brings the same signature blend of angst and irony to their newest release that they brought to "Fake Blood," and it is just as intoxicating.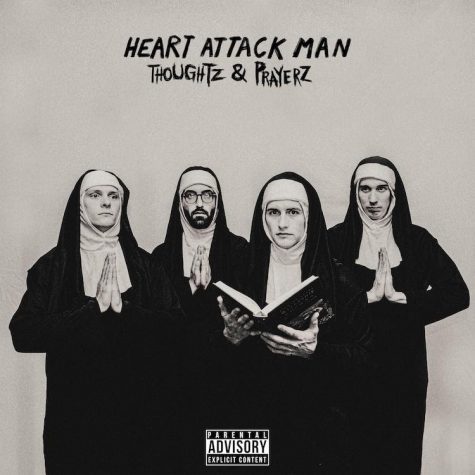 Track 1, "Puke," is full of spit and blood. This is the perfect anthem for fighting a guy in a Denny's parking lot. Listening to this track will remind anyone – in one word – of why this band is worth listening to. That word is: riffs.
"Puke" is such a fun blend of hardcore punk riffs and catchy Midwest hooks, and with vocalist Eric Egan doing his best Code Orange impression, it's impossible to listen to this song and not want to move until the title is accomplished.
It's not easy to be clever and topical. Too specific and a song becomes corny, too vague and the audience is lost. The title track, "Thoughtz & Prayerz" hits a sweet spot between these two extremes. "T&P" speaks to millennial nihilism. In a society that feels evermore indifferent to the plight of its progeny, few sources of media fully encompass the vague malaise of adolescence in the 21st century as this song. "Thoughts and prayers, no one cares." No. They really don't, do they?
The same compliments could be given to Track 3, "Cool 2 Me." Where "Thoughtz & Prayerz" is an expression of frustration at the world's indifference, "Cool 2 Me" strikes out at its hypocrisy. This is a song for those who have had a friend turn out to be less than cool behind closed doors. Always a touchy subject, particularly in the punk-alternative scene today, where grooming and abuse are a pervasive issue. This track takes a stance. It holds a mirror to the audience and says, "Is this you? I hope not."
The final track, "Leap Year," speaks deeply to listeners. "I didn't think I'd make it to 23. I'm happy to be here." Many can relate to lines like this. Listening to this side of punk-alternative can be a struggle, as it always seems to stir up those memories that are better left to rest. That said, it is nice to hear something positive for a change.
When teenage years are spent struggling, the grown-ups always say it gets better, but they never really seem to know when. It just kind of happens. "Leap Year" is the feeling when it actually has happened. It's that electric feeling when looking up and realizing that the sky isn't its usual shade of gray. Nobody knows how or why, but suddenly the realization strikes that all the time spent on wishing to go back was worth the sacrifice to have gotten to today.
It's rare that a band follows-up an album as good as "Fake Blood," this well, but "Thoughtz & Prayerz" has solidified a hot streak for Heart Attack Man. And while that's thrilling now that means that now begins the long wait for Heart Attack Man's next full album.
However long it may be, this EP proves the wait will be worth it.