Industria Incarnatum: Energy Alive
Detroit Death-Metal band, Carnis Immortalis' debuts newest EP, "The Ecstasy of Death"
Rating: 9.5/10
There is always something uncanny and impressive about the way an artist can make their instrument speak. Not speak in the traditional sense, with words or directions, but in terms of the organization of sounds. Whether in a classical symphony or a lyrical ballad, the rhythmic organization of vibrating air creates the wonderful sensation which has come to be dubbed as the vibe (vibration). It's difficult to explain exactly what having good vibes means, but readers better believe they'll experience it with Carnis Immortalis' new EP, "The Ecstasy of Death."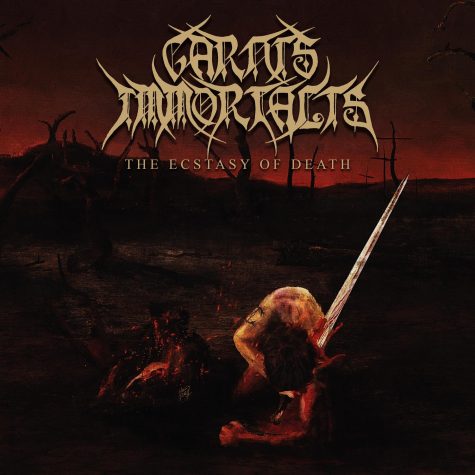 It is obvious this band understands their art; they demonstrate a level of technical proficiency which far exceeds one's expectations for independent music. The album plays with the kind of musical acumen that composers of the classical era strived for, without all the pretense. From their layered guitar harmonies and absolutely ripping solos, to the refreshingly energetic rhythmic sway of Gene Baker's drumming, this album definitely has vibes off the charts. Not to mention that the bass guitar can actually be heard! One of the many reasons to love Carnis Immortalis is for their bass player, Kyle Wagner, and his inhuman level of talent (not just on the bass), which one can actually appreciate in this album.
Part of what makes these songs so entertaining is that it contains a little bit of everything for metal fans. Jalen Wallace's vocals take influence from death metal and black metal alike. Guitarists Craig Kirk and Erik Partin play the kind of effervescent solos and harmonies that brought this writer into metal in the first place. The music brings back such fond memories of metal before every band started playing metalcore or deathcore, or whatever other "-core" genre. One can hear the influence from bands like Opeth and Mastodon, even some "City of Evil"-era Avenged Sevenfold. "The Ecstasy of Death" harkens back to an era when bands played for substance rather than style, while still being fresh and exciting.
Not-to-miss tracks on this EP include "Decaying Sun" and "Gynaebolical," which was released as a single earlier this year. "Decaying Sun" features some really fun metal vocals melodies, and in the middle of the track, probably the best guitar solo that has been recorded all year. 
Of course, it would be a mistake not to mention the album's title track, "That of Which Calls to Me…The Ecstasy of Death." This track really is something else. It awakens exactly the vein of melancholy nihilism that attracts people to metal music. The track is instrumental, yet manages to masterfully summon those urges. It doesn't just tell you about sadness or anger, it forces you to feel the kind of stoic despair that is required to stare into the abyss and say, "no, not today." The vibe of this track is incredible. Simply with sound, the band takes you to that otherworldly place where things are frightening, and then fills you with the strength you need to fight them.
Carnis Immortalis has the sort of talent that should be selling out shows across the country. Reminiscent of an early Dream Theater (with screams), they are the kind of band one wishes all the success to, but secretly wishes they would never leave the local scene. Truly, these lads have put out an incredible work of art with this album. 
The praise they earn from the Michigan Metal-Scene is well-earned, and it must only be a matter of time before they are playing at every venue in the Midwest, at least. 
Buy this album now, go see one of their shows, because it will be only a matter of time before you will no longer be able to say you knew them before they got big.