Farewell, Belinda
Registration office Belinda Eleson retires after 43 years
It is said that all good things must come to an end, and for Belinda Eleson that end came on Jan. 31, 2022 when Eleson retired after 43 years. 
After being a valuable member of the Schoolcraft community for over four decades, her contributions to the college are remembered fondly by all who know her. On Jan. 28,  the college community thanked her for her service at the college with a retirement celebration.
"Legend is defined as a famous or important person who is known for doing something extremely well. For almost half a century, Belinda Eleson has been an important person doing something extremely well while working at Schoolcraft College: She helps students achieve their dreams," said Director of Registration, Joe Czapiewski at the celebration honoring Eleson's legacy, where she was awarded the 'Spirit of Schoolcraft Bell Tower Award for Lifetime Achievement.' The Bell Tower award was designed and created by Schoolcraft welding professor, Coley McLean, for the specific purpose of honoring Eleson's time at the college.
The attendance for this event was nothing short of star-studded. In addition to nearly faculty and staff members, in attendance were current Schoolcraft president, Dr. Glenn Cerny, and former presidents, Dr. Conway Jeffress and Dr. Richard McDowell. 
"[Belinda] truly cares about giving good customer service and taking care of her students, and for that reason she truly exceeded all expectations." states Cerny. "Her professionalism, fearlessness, authenticity and self-deprecating humor has made it a pleasure to work with her for years. The Spirit of Schoolcraft College Bell Tower Award for Lifetime Achievement is a testament to Belinda, and the Registration department."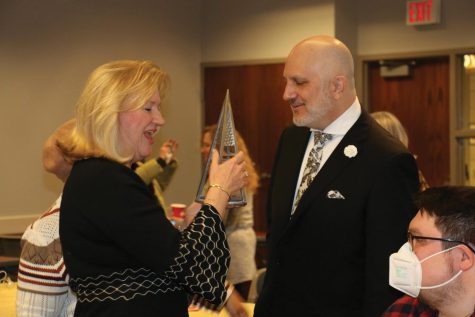 Belinda began working at Schoolcraft in 1978, originally working in Purchasing. Her longest held position at the college was operating the switchboard. Belinda's voice was the "pleasant, first voice that people heard when they called the college," comments former Schoolcraft President, Dr. Richard McDowell. For 27 years, Belinda's was the voice that welcomed new students to Schoolcraft, helping them find their way as they pursue higher education. After the switchboard position closed, she eventually settled in Registration, where she has worked for the past 8 years. 
During her tenure here, Eleson has befriended students and staff alike. "I think it was Belinda's knowledge of the college that first drew me to her many years ago. She seemed to have all of the answers and if she didn't know the answer she knew who did," remembers Kim Riemke from the media services."Because of her kindness and fun-loving attitude we grew closer, and she even got me to sub on the SC Baseball team years ago!"
One such student who has been touched by Belinda's legacy is registration student employee Madison Ling. Eleson helped Ling feel welcome and taught her all the tricks of the trade. 
"Belinda, we love you and we will carry you in our hearts even after we graduate,"  said Ling. You are truly the spirit of Schoolcraft and the life of the party in Registration. Above all else, you're a permanent member of our family and that will never change."
Ling began her time at Registration feeling out of place. She was used to 'one-sided' communication or writing. Actively engaging with customers, discerning what form of assistance they need and deciding the best way to explain and demonstrate it were all new interactions for her. 
"I remember when I would be running late and flying up the steps to Grote at 6:30 a.m.," said Eleson, "The bells never failed to startle me every time. Even as new buildings were added to the campus, or the bell tower's decorations [changed], it still remained the same from the start of my career to the end of it." When Eleson asked for a model of the bell tower to be made by McLean, Czapiewski knew exactly how to make presenting it to her special. And thus, the Spirit of Schoolcraft Bell Tower Award for Lifetime Achievement was created."This award means a lot to me because it's how I'll always remember Schoolcraft," Eleson beams. 
That's not where her thoughts on the campus end, however. In a statement released to the staff at Schoolcraft, she let her coworkers know how much her time with them meant to her:
"Words cannot express how overwhelmed I am for the wonderful sendoff hosted by Joe Czapiewski and the Registration/Answer Center Staff," she writes. " I am humbled and so grateful to have had the opportunity to be a Schoolcraft employee for 43 years! It has been a privilege to have made so many lifelong friends that I will maintain long after retirement.  It's been quite a journey! Thank you for the many memories. " 
Many have Eleson to thank for her life-altering support and attitude that has shaped Schoolcraft over the decades. Few who know her will forget about her contributions and her legacy at the campus is now in perpetuity with the Spirit of Schoolcraft Bell Tower Award for Lifetime Achievement award.