Not just a river in a movie
"Death on the Nile" breathes fresh air into this timeless classic
PG-13
2h 7m
Rating: 6/10
Subtlety has long been the friend of the whodunnit. In the old days, murder mysteries rose to fame as a genre which could be cheaply produced for a high profit, if done well. The formula does not require much. Traditionally, the whodunnit requires only a single set, a small cast, and relatively little action or effects; its plot reveals itself in the dialogue of the characters, or perhaps a conspicuous prop here or there. In the old days, it was on the viewer to piece together the mystery through a string of thoughtfully placed visual or auditory cues.
The age of subtlety, however, has passed. The new "Death on the Nile'' film, the latest cinematic iteration of Agatha Christie's 1937 novel, stands in stark contrast to its predecessors. For context, this is a story which has been adapted countless times for film, television, and theater, the most successful of which being the 1978 film. Its protagonist, Hercule Poirot, was Christie's response to Sherlock Holmes. Poirot is a world-famous detective, who often finds himself in adventures while following the trail of his cases. Viewers of the new film might remember Poirot from 2017's iteration of Murder on the Orient Express, or its various other adaptations. Just as there is no single Sherlock, or Hamlet, in today's mythos, Poirot is a character whose portrayal very much belongs to time. In the same vein, "Death on the Nile" is a story that seems to be made to be retold.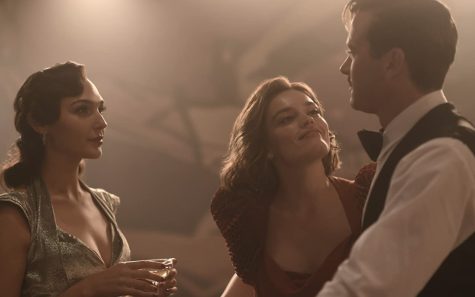 Today's telling of the story is grand. It almost feels like a fever dream, dressed in Roaring Twenties hedonism. Historical prudence is thrown to the wind to reveal the dangers lurking behind lust and sin. In contrast to its predecessors, Director Kenneth Branagh – who also plays Poirot – has elevated the characters in Christie's classic to be larger than life. Poirot is no longer jovial and even-tempered, but a reserved savant, a nigh superhuman with tragic backstory. Where the piece has not traditionally been one which involves very much movement or many effects, this film elaborately ties in both. 
Every dollar of its production value ends up on screen. Digital effects, dramatic camera movements, and intricately choreographed action scenes beg the viewer to keep watching. The cinematography is decadent, fitting for the film's themes, centered around 1920's extravagance.
One might say its production is too enthralling, in proportion to its cast. With all-stars such as Gal Gadot and Letitia Wright, as well as accomplished Shakesperian-actor Kenneth Branagh, and a surprise appearance from Russell Brand; performance is hardly a question from this cast. If anything, the film leaves its audience wanting more of its cast, rather than more from them. This is professional acting, in the most lighthearted sense. 
Such, however, is a consequence of age. "Death on the Nile" is the story of a time when nuance was expected to reveal, rather than present itself. Being so, its newest iteration is of a different flavor than those previous, as both a highlight and a downside. But it is good to see tradition preserved. In an age of boundless repackaged material, "Death on the Nile" feels more like a refresh than a reboot. 
In the annals of Christie's legacy lies the evolution of her stories, from 1937 to 2022, told again and again for the new generation. Some stories are like that, and this is a welcome addition to the fold.