Building a better future
Health Sciences Center building updated with new additions
 Medical studies are a tightly ingrained value of the Schoolcraft community and are ingrained into the campus history as a result. With the recent acquisition of the Radcliff Center by Garden City, the Livonia campus has been expanding the Health Sciences Center (HSC) for the past year and a half. With two new degrees in Radiologic Technology and Diagnostic Medical Sonography, the newly renovated facility is expected to be fit for the strongest health professionals.
"The partnerships Schoolcraft College has created with Trinity Health, Henry Ford Health System, Ascension and Beaumont ensures that our students have access to employers that are hiring in the region," said president of Schoolcraft College. Glenn Cerny. "They continue to work with us to create new programs such as our Mammography, MRI, and CT Post Associate Certificates which would not be possible without the high-end facilities now located within the HSC."
Changes are seen and felt throughout the building. From nursing, pharmacy technicians, surgeries, emergency medical services (EMS,) and medical imaging, the HSC has something for any aspiring doctor, nurse or practitioner.
"The newly built HSC gives Schoolcraft the ability to address the workforce shortage in the healthcare industry by increasing the capacity of our nursing programs, and expanding our programs to include additional high paying, high demand jobs in Radiology, Sonography, Sterile Processing and Surgical Technician," said Cerny. 
Furniture lines the halls of this building for students to eat, study and spend downtime at. Between tables and chairs lie classrooms set up with computers, allowing professors to utilize these rooms as both lecture halls and testing centers. The screens can be used to monitor health information. One such location has floor and ceiling mounted x-rays that shoot digitally, sending the image right to the computer. This room also dons lead-lined windows in order for onlookers to safely watch the process without fear of radiation. The models used for this are a resin composite fit with actual bones to make the x-ray as realistic as possible while still maintaining student safety.
"Schoolcraft College prides itself on the rigor of its coursework, the excellence of its faculty, and its state-of-the art facilities," said Cerny. "This, along with our partnerships, is why we are able to provide our students with a transformational learning experience and provide our community with a highly skilled workforce."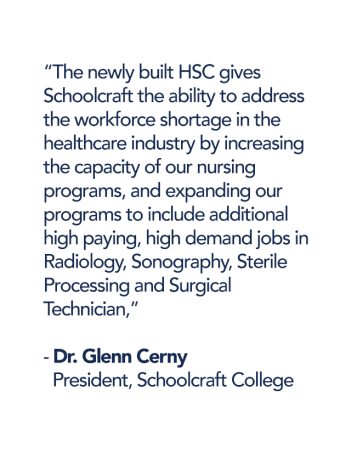 The pharmacy technician laboratory is right at home with equipment one would find in a hospital or pharmacy. While there are no actual drugs in the facility, realistic looking props are utilized in order for students to practice safekeeping, safe dosing and safe use in a realistic and manageable setting. Paired with a telephone used to take practice orders and a pharmacy window to deliver them, students are met with the ultimate pharmacist simulation.
Safety was a key part in these new additions and this is exacerbated by the Clean Room which allows for practice with nontoxic materials or simulated hazardous chemicals, the lab is equipped with equipment to ensure a sterile environment, The home health lab is equipped with a refrigerator as well as a washer and dryer, bathroom and living area used by EMTs and Occupational Therapy assistants to simulate a living area where different scenarios can be tested and experienced. Pediatricians are represented in this facility as well with dolls used to simulate babies.
Prior to these updates, the Health Science building housed two labs, but the changes made now allow the facility to boast three. Students were only admitted to classes during the fall, but two years ago they began admitting 32 students during the winter. Now, with the extra space 64 students can be admitted during the winter semester which gave cause for the creation of a third lab. The site also features a bariatric bed that can hold up to 1,000 pounds fit with a lift to raise heavier patients or transfer them to a wheelchair. 
The surgery suites allow aspiring surgeons to practice with the lights and equipment used in an actual operation. This space could also be leased out to hospitals so their own staff could practice simulations outside of their own facility. The paramedic lab is not only fit with a bay door for ambulances, but monitors and suction machines as well used for field work The room is even fit with a staircase to practice taking patients up and down elevated surfaces
"[Hospitals are] actually very encouraging to most of our health programs," said David Kesler, associate dean of Health Professions. We get calls all the time. You know, 'we need people, how can we help?' So we've definitely had a very positive relationship with those partners."
Previously operating out of the Radcliff Center which was sold to Garden City in order to make a community center, medical programs have a bright future at the Livonia campus, with a phase two that is under construction now and will include medical assisting labs and administrative offices.
"The new health center at Schoolcraft is a game-changer for students and the community. State-of-the-art curriculum and equipment make Schoolcraft the leader in the region for health care training as well as hands-on experience. The Schoolcraft Board of Trustees appreciates the support of our State's partial funding through capital outlay and the work of President Cerny and his administration that allowed us to update our facilities to provide the best medical training for our students who will be serving our local communities," said the Schoolcraft College Board of Trustees in a written statement.
The key word for this facility is simulation. Entering the HSC is akin to stepping into an actual hospital. The different branches and wings all intertwine to create one continuous and synchronous learning experience as if it was on the field. 
EMS could bring a patient in, a medical assistant could help check them in, they could be brought to the surgery suite, the equipment would be cleaned and a mock surgery would occur, they could be brought to medical imaging to simulate an x-ray or ultrasound. All this is able to be done in one seamless test. As a result, Schoolcraft Students gain a rigorous and worthy experience for their future in the medical field. With these additions, the medical community at Schoolcraft is expected to grow even further.