Summer in the air
Summer Salt brings "The Soft Serve Tour" to the Sanctuary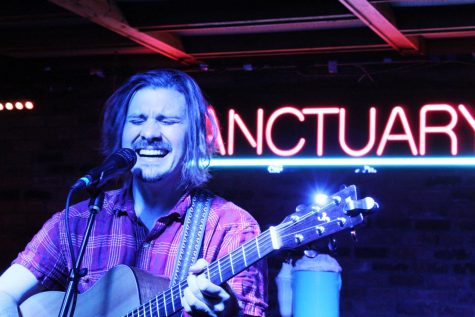 The wonderful experience of live music is to drink in the atmosphere which follows every band. Some performers are known to hype up their audience, bringing energy to the crowd in the form of heat and electricity. Others bring a calming presence; these bands ignite the souls of onlookers, inviting them to relax and share in their collective expression. Summer Salt is one such band.
In a world of mosh pits, and the occasional deathly-overcrowded festival, Summer Salt is a fresh drink of water to replenish all that lost sweat. Their music is like that first breath of warm summer air after the long winter, it's calming. The band embodies a style of music which made a resurgence in the 2010's in response to the hyper stimulating electronic and heavy sounds of the aughts. A sort of hipster-style, indie-folk, soft-rock, that reminds the listener what music can be: a place to grow.
Summer Salt has been touring this season to promote their new album "The Juniper Songbook" (2021), released this past March. "Juniper" is a reimagining of songs from across the band's discography re-released to fit the band's evolving image.
"I think we've grown as musicians and we really wanted to take the opportunity to challenge ourselves and see our songs in a different light or just with recording outside of our comfort zone and bedrooms," shares vocalist/guitarist Matthew Terry on the Summer Salt website, "When we write songs we don't write as a band. We write in the intimacy of our own rooms with a guitar and voice. This is the origin of every one of our songs."
Songs such as "Clover" and "Candy Wrapper" will show listeners exactly what this new image is all about. This is the kind of music that compliments the senses, rather than challenges them, chilling the listener out to just relax and have a good time.
Performing these and other songs off "The Juniper Songbook," along with phenomenal opening performances from singer/songwriters Kate Stephenson and Renata Zeiguer, Summer Salt's "The Soft Serve Tour" is not one to miss. This is the kind of show to bring your friends to and make new ones, and to remember what music is all about: bringing us all together.