Acknowledging success
Mathematics Department announces 2022 Pythagorean Prize winners
The Schoolcraft Mathematics Department held its 27th annual Pythagorean Prize competition. This is the department's largest scholarship prize and recognizes exemplary scholarship in mathematics and encourages students to consider careers in mathematics related fields. The annual competition is available to students who have taken at least three Mathematics courses – at least one at the 200-level – with a GPA of 3.5, and an overall GPA of 3.5. Additionally, students looking to be considered for the prize must also submit an essay, and are encouraged to be actively involved on campus. First places winners are awarded, $3,000,  second place $1500 and and third place receives $1,000.
This years award recipients are first place Olivia Hudson, second place Joseph Rosato and third place Russell Clark.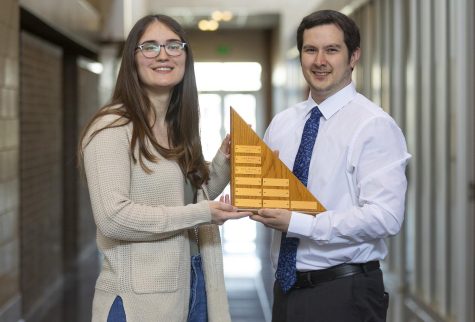 Olivia Hudson
"It feels surreal, like maybe I am in a dream," said Hudson "It's also an honor winning this prize because all of the hard work that I put into my school work has paid off."
It's clear that the admiration Hudson has for mathematics is a fierce one. With a passion that dates back to elementary school, the subject has always had an influence on her education.
"I took advanced math classes from 7th grade all the way to 12th grade," she wrote in her essay. "One reason I took advanced math classes is because it was more of a challenge, especially as I progressed and learned more."
This willingness to rise up to the challenge cemented these skills in her mind. With a goal in sight, she chose to pursue a career in engineering during this time.
"It was the principle of hard work that I learned during those advanced classes that allowed me to excel in the courses that I took here at Schoolcraft. This has allowed me to become recognized for the prize." 
High school is when Hudson set her sights on not only Honors classes, but also AP Calculus. Passing the class would allow her the Calculus 1 credits for college. This would prove to be a challenge however, and she ended up having to take the college class as  well. Luckily, this did not demoralize her as the next steps approached.
"After planning my whole high school experience around engineering and graduating in 2019, I intended to go to Lawrence Technological University to obtain a degree in biomedical engineering," Hudson said. "But a few weeks before school started, I came to the realization that community college would be the better option for me before attending university."
Though she would later change her career field to nursing, her knowledge of math has continued to guide her ever since, She also has Schoolcraft native, Professor McCoy to thank for helping her continue her interest in Calculus.
"At this point, the question may arise, 'why are you taking differential equations as a nurse?' Well, I do not have a good answer because I know that this high level of mathematics is not required and will not be used in nursing" Hudson said. "All I can say is that I still have that passion for math, even if my degree does not revolve around it."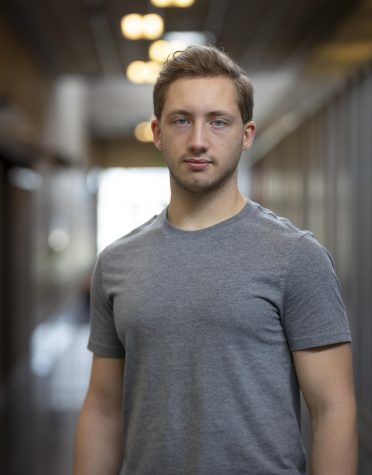 Joseph Rosato
Second place winner, Jospeh Rosato remembers how in high school, math was never his favorite subject and always felt he was mediocre at it. It wasn't until he came to Schoolcraft during his Calculus II class that he began to enjoy mathematics.
"Despite being an A and B student, I never fully internalized the principles of algebra and geometry that I learned. However, in my second semester here at Schoolcraft during Calculus II, I began to enjoy studying mathematics. Now I enjoy learning math and using it to solve complex and difficult problems. These realizations have contributed to guiding my career and educational aspirations and transforming myself into a stronger thinker and a better problem solver," Rosato wrote in his essay.
Rosato plans to become an electrical engineer and will be transferring to UM-Dearborn this fall.
"One of the key contributing factors for my decision to study this major is the mathematics involved. At Schoolcraft, my science and mathematics classes have been my most intellectually stimulating and interesting classes and I cannot wait for the future math, science, and engineering classes I will have the opportunity to take." comments Rosato.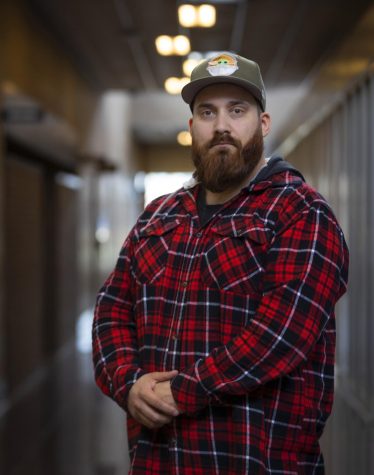 Russell Clark
Third place winner Russell Clark is especially happy about this achievement, given that not only will the prize money help him continue his goals, but he is also a non traditional student at 31 years old.
Clark is a former member of the United States Marine Corp and after a ten year hiatus from his education, he decided to go back to school to fulfill his dreams of becoming an aerospace engineer. 
"Being a 31-year-old man, I have a family, a job, and other responsibilities that take up my time in addition to being a full-time student. Getting through the last few years of mathematics required a considerable amount of time, effort, and dedication. [M]ost days I wake up to study what I can before class," said Clark. "After class I go directly to work. I repeat this process everyday using any and all time to study when at all possible. It shows my son that determination and perseverance can help you achieve anything you want in life."
Clark will be transferring to the University of Michigan-Ann Arbor this fall and be a part of the College of Engineering.
Each of these students has put in the work, and those following in their footsteps may do so by applying for the prize next year.
"You have to stick with it and be willing to put the time and effort into learning it." said Larry Choraszewski, Mathematics Professor and Chairperson of the Selection Committee. "Like many other things in life, in time, what you might find is that math can actually be fun and exciting! [Y]ou won't regret ever knowing how to do mathematics, especially when you're older and your kids need help with their homework."
The Pythagorean Prize is named after the ancient Greek mathematician and philosopher Pythagoras, who was born on the island of Samos in the Aegean Sea. Around 540 bce, he established a mystical cult in Crotona, southern Italy. His followers, the Pythagoreans, explored the properties of numbers, the mathematics of musical scales, the movement of heavenly bodies, and the use of geometry in measurement. They had the first known proof in Europe of the "Pythagorean Theorem" concerning the lengths of the sides of a right triangle. Pythagoras was an important figure in the development of mathematics.