Problem solved
Schoolcraft Distance Learning staff host web show to promote online learning
What originally started as a joke between coworkers has expanded into a passion project to inform and inspire students. "What's Your Problem" is an online web show broadcasted on YouTube and Panopto that explores the issues that come with the territory of online distance learning, and looks into solutions on how to solve them. Hosted by Jason Kane, Bernadette Bacero and Kaylynn Mortensen, who are employed by the Distance Learning Department, the show features a rotating cast of guests and aims to demystify the challenges that remote learning comes with.
"As instructional designers, a core task is to support instruction for Schoolcraft College's Distance Learning faculty," said Kane. "We offer on-site training and workshops, but it can be hard to schedule them at times and days that meet the needs of all interested parties. We felt that a topical web series was a great and fun way to extend our reach to more people." 
Once they reached out to British band "The Zutons" for permission to use one of their songs as the show's theme, the project became all the more real once the proposition was accepted.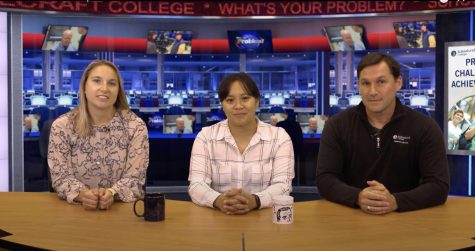 "We'd get into great conversations about challenges that exist in Distance Learning," said Kane "We started joking that we should have a show called "What's Your Problem" where we just talk out and solve all of the challenges in online learning. We weren't serious, but we made a fake production company, (merchandise) got a theme song. Then one day, we thought – maybe this is actually a show!"
The hosts lovingly refer to the first iteration of the show as a mess. Created to be a convenient, motivational and informative avenue to shed light on the challenges of Distance Learning, and make it feel like a less foreign subject while humanizing the faculty involved, the show eventually found its footing. 
When they began, they followed a talk-show structure where three different distinct problems inspired by Online Distance Learning were discussed in an off the cuff, unscripted setting. Once they ironed out the technical issues and began working with media services, they began to hit their stride. The hosts rebranded to a scripted newscast style, and opted to discuss a singular issue each episode, coming up with three solutions for the problem.
"Our goal for the show has always been to create something helpful," said Kane. "Something convenient, something motivational and something that makes Distance Learning faculty feel part of a community. We want to make a database of information on demand, easy to access, easy to implement, that doesn't take long to watch nor would it take long to produce."
Once the COVID-19 pandemic began, they were forced into a hiatus, while online distance learning continued to grow in popularity, but now that they have returned, they have been able to involve even more people than before. This includes interviews with Director of Equity and Engagement TaQuilla Kusero as well as Associate Dean for Student Success and Retention Sharon Christian. They plan on doing more faculty interview segments in the future, and hope to start including students in the process as well. This season of the show also featured the first time they filmed off-location at an educational technology convention. 
The technology used to deliver instructions at Schoolcraft is currently in a process of upgrading, and the hosts want to explore this advancement further. Along these lines, they also want to integrate topical trends in higher education such as classroom engagement, career outcomes, access and equity, virtual learning and mental health.
"Our most popular episodes tend to those that revolve around academic integrity and cheating in distance learning classes," said Kane. "It's a problem that affects education in any form … This topic generates a lot of conversation and, as part of this and most importantly, action-oriented practices for reducing academic dishonesty in the classroom. Learning overall is a continuous improvement cycle."
Episode by episode, day by day, the hosts of "What's Your Problem?" hope to shift the view that Online Distance Learning is not a beneficial way to pursue an education. The medium has been expanding upon in ways that can create a transformative and fruitful experience within the past two decades and they want to highlight those improvements. They continue to dispel myths that flare up, highlight the removal of barriers and promote the ease of access that comes with the territory.
To watch "What's Your Problem?" visit the YouTube channel https://www.youtube.com/@WhatsYourProblemShow. For more information, visit their twitter page @itsProblemTime.