A voice for all
Office of Equity & Engagement hosts black history month series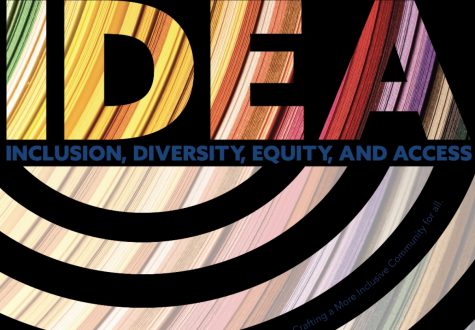 With Feb. 1 marking the beginning of black history month, Schoolcraft's Office of Equity & Engagement will be host to several events alongside the Black Student Union (BSU) elevating black voices and experiences throughout the month. The goal of these events is to showcase Black Resilience both past, present and beyond.
"It is my hope that these events will create a safe environment for members of our community to grapple with the issues that negatively affect, and impact the African American members among our diverse community," said Research Assistant for the Office of Equity and Engagement Catreese Bell-Qualls.
 These events were created to cement the concept of IDEA: Inclusion, Diversity, Equity and Access while serving to promote social awareness to potential problems that the African American community faces.
The Rise of Black Leadership
The first event of the month will be a Town Hall presentation on Feb. 7 from noon to 2 p.m. in the Sutherland room of the VisTaTech Center. This introduction will explore the history of African Americans in the United States and how they were able, and continue to cultivate the "Black Resistance" despite their historic oppression, but with a specific focus on racial terrorism such as lynching, desegregation programs and police killings. This event aims to highlight social justice and shed light on accomplishments of Black Americans despite being neglected throughout history.
Feb. 16: Documentary Exploration Viewing: Discussion Event Series: Detroit Then & Now
A documentary viewing and discussion of "Detroit Then and Now" will be featured on Feb. 16 from 12:30 to 2 p.m. in the Kerhl Auditorium of the Kerhl Auditorium. Topics such as the Detroit Riots of 1967, the 12th Clairmount Riots, segregation, housing and the  in Detroit will be discussed.
Feb. 21: A Seat At The Table
This event will feature a virtual discussion that will cover the history and evolution of the LGBTQ+A Community in the United States from an African American perspective, and the members of these communities that affected great change. 
Black Excellence In The Arts Contest
From Feb 3 to 17, there will be a campus wide initiative to celebrate Black Excellence by hosting a competition featuring essays, presentations and art exploring the concept.
Tell us about a Change Agent you admire and how they exude Resilience! African Americans have made a profound impact on the advancement of the nation and the word at large. Who inspires, motivates, and makes you feel inspired to become a better you?
This year will mark the first ever annual Black History Excellence in the Arts Awards Contest. This is a campus wide event. Entries may be submitted in ESSAY, VISUAL ARTS or VIDEO Presentation formatting.
Submission Criteria
Essay: 250 words that specifies who your greatest of all time inspiration is and why.
Visual Artwork: An Original Artwork accompanied by a description of the submission piece.
Video Presentation: PowerPoint, Slides or Documentary must be at least 10 minutes.
All winning entries will be displayed at the Awards Recognition Ceremony on Feb 28 from 12 to 2 p.m. in the Vistatech Center, Sutherland Room.
The Top Three Entries will receive a $200 Award  and three Honorable Mentions will receive a choice of a $50 Gift Card.
Feb 28: Award Ceremony Black Excellence Awards in the Arts
This event will be held from from 12 to 2 p.m. in the Vistatech Center, Sutherland Room.
All these events are sponsored by The Office of Equity Engagement, BSU, Democratic Club, Student Activities and Schoolcraft College and are free and open to the public.
For more details please contact please contact the Office of Equity and Engagement at [email protected].