More than just rocks
New Earth and Geoscience Club explores the world from a "down to earth" perspective
One may mistake geoscience for nothing more than the study of rocks, but the Earth and Geoscience Club (EGC) at Schoolcraft know that the field can boast so much more in reality. Advised by Geology Professor Samer Hariri, and co-ran by students Caroline LaPointe and Stephanie Durant, the group has much more to offer.
"The EGC is a welcoming group and we would love to get others interested in the subject of rocks and minerals with us," said LaPointe. "Allowing people to have a better understanding of the field of geology is a goal we strive for."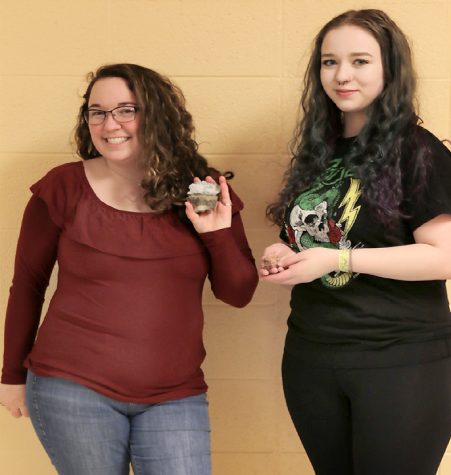 Meetings take place Mondays, with the current dates Feb. 20, March 20 and April 10, from 4-5 p.m. in Forum room 360. The gathering begins with a lesson from Professor Hariri. Then the group does an activity for the rest of the session like presentations by guest speakers, further lectures on geoscience topics as well as current events, showcasing rocks, minerals and fossils, outreach events and other activities designed to give students a hands-on experience.
"My hope is that students who participate in the club can discover and further explore their passion in the Earth sciences, and to simply enjoy their experiences and share their knowledge and stories with one another," said Hariri. 
LaPointe also shares this hope and passion, with her interest in geology dating back to when she was only five while on family vacations.
"Family vacations to Ludington led me to come home with several pounds of the 'prettiest sparkle rocks.' I have been going to the Roamin Rock Auction here at Schoolcraft since I was young. I have never stopped collecting and I am always walking with my head down so no rock goes unnoticed by me."
With countless fields to explore, including atmospheric sciences such as weather, climate and air pollution, environmental sciences like sustainability, conservation, pollution mitigation as well as other environmental issues and geological sciences including mining, natural resources/materials, water resources/energy, volcanic, seismic hazards, fossil records and beyond, it's clear that the scope of this area of study is nothing short of extensive.
"These fields are integral to the functioning of our modern society," said Hariri. "From the extraction of natural resources to the mitigation of natural and anthropogenic disasters, understanding the geosciences helps us with the decision-making process in building and maintaining our societies in a responsible and sustainable way, from the community level to the global level." 
Inquiring members don't need an expansive knowledge of geology, however. The club is very welcoming to new members and is ready to inform and share their love of the subject. LaPointe is open to feedback and hopes to ensure the club is as accessible as possible. She wants to foster a like minded group of individuals who can share in their love of the Earth. 
"My favorite aspect of geology would definitely have to be all the different minerals," said LaPointe. "It continually amazes me what our Earth is capable of and what beautiful things we can find, and what minerals are yet to be discovered."
With the diverse scope of geoscience, there's room for plenty of enterprising geologists to join the fray. New members can expect opportunities to explore various faces of science and how they intertwine to make the Earth.
For members who want to further pursue this subject, the professor believes that this club will foster an environment for budding geologists and inspire students to explore their geologic pursuits so that the knowledge they obtain about the field can be used for their potential career.
"I am excited that we have a growing student body who are interested in the Earth and environmental sciences," said Hariri. "I hope that we can reach out and collaborate with other clubs and organizations on campus to share the wonders of our planet. Earth is for everyone, and everyone (regardless of major and interest) is welcome to join our Earth and Geoscience Club to explore this world from a 'down to Earth' perspective." 
Hariri hopes this club will not just serve as a way to expand geological pursuits outside of the classroom, but as useful experiences as well. He doesn't want its members to be limited by the boundaries of 7 Mile and Haggerty, instead hoping that they get the opportunity to explore their interests outside of Schoolcraft, the classroom serving as an extension of their passion.