Challenging our dreams
"Tick, Tick … BOOM!" is as explosive as ever one year later
PG – 13
1hr 55m
Netflix
★★★★★★★★★ (9/10 )
New York in the 90s was host to a cultural revolution that forever altered the way art is perceived. People who live unconventional lives, known as bohemians, flocked to the city in order to express themselves as a community in a world with rapidly expanding social barriers. "tick, tick … BOOM!" is the true story of Jonathon Larson, one such bohemian who has dreams of becoming the future of musical theatre with his budding rock opera "Superbia," but fears that he is resigned to working at the Moonlight Diner for the rest of his life. 
Ultimately, Larson would accomplish this goal, but not with "Superbia." Instead he found his success with "Rent" years later, but he wouldn't be around to see the culmination of his achievement. 
The film begins with a narration, informing the audience of what Larson will go on to do, but not how he did it. "This is Jonathon Larson's story. Before the Tony Awards, before the Pulitzer Prize, before we lost him. Everything you're about to see is true, except for the parts that Jonathon made up." This is a truly faithful recreation of the Broadway show as well as Larson's life. The sets were meticulously recreated, using pictures that Larson took of his apartment for tax purposes. The recreation is so committed that everything down to the sag of his bookshelf and the books that weigh it down are accurate to his real life SoHo apartment.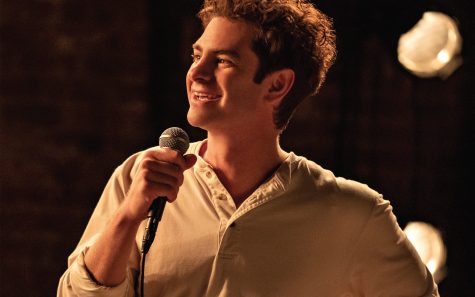 Andrew Garfield's portrayal of Jonathon Larson is nothing short of inspired. His mannerisms, inflection and appearance all reminisce looking into a mirror. Alexandra Shipp also does a stellar job as Susan, a professional dancer who is dating Larson, but begins to question his devotion to their relationship after she is offered a job in Massachusetts. Robin de Jesus plays Michael, Larson's best friend and ex-roommate, who Larson feels has sold out his values for a paycheck. 
The film begins with a recreation of the real-life rock monologue, "tick, tick … BOOM!" that the movie is based off of. Larson illustrates his struggles as a starving artist living in New York. He wants to create the next great American musical, but is being weighed down by the pressure of time and responsibility. In 1990, when the story takes place, Larson is 29 years old and on the verge of his birthday, but he fears it may be too late for him to proceed with his magnum opus. "Superbia," which is the culmination of his efforts to become a broadway hit, and is still unfinished after eight years of production. Those vignettes of the Broadway show occur throughout the movie and serve as an inner monologue where Larson is able to explore his thoughts. They do not appear chronologically, transpiring some time after the film ends. 
The story is told through a combination of both diegetic and nondiegetic music. The opening number of this rock opera is "30/90," which is a perfect encapsulation of the films' themes. With the turn of the century approaching, the weight of getting older is becoming too massive to bear and Larson establishes this through sardonic lyrics bemoaning the challenges that come with getting old. The next song, "Boho Days" continues the trend by establishing Larson's home life as a bohemian living in Greenwich Village. Later on in the musical, these ideas culminate with the song "Come to Your Senses", which serves as a revelation to Larson and features motifs used throughout the movie. The final song, "Louder Than Words" is composed of unanswered questions that Larson still has about life, and leaves the audience to answer them. 
Despite the film's strengths, some problems still occur. The plot takes a while to pick up, making the time between the first few songs feel like a delivery method to the next number instead of a story. On top of this, the weakest songs are often accompanied by the most expansive setpieces which feels like a waste of spectacle and fails to tread new ground. "No More" reestablishes the poor living conditions that Jonathon Larson lived in, with a lavish dream sequence of what living in a penthouse apartment would be like. 
This sequence, while fun to watch, ultimately is not necessary. Larson's aspirations of living a better life are already clear to the viewer and don't need another song to explain the concept. The same can be said for "Sunday,'' which is a nod to "Sunday in the Park with George'' by Stephen Sondheim where Larson laments working the Sunday shift at the Moondance Cafe, but ultimately falls short of establishing any new information, despite being full of fun Broadway cameos. 
This isn't just one for the theatre fans. Among many other things, "tick, tick … BOOM!" poses the question "how much time do we have to do something great?" It challenges the lengths a person can go to achieve their dreams and explores the idea that actions can speak louder than words.