The Women's Volleyball team experienced a turnover at the end of last season, with only a few returning players coming into 2023. However, this year's squad's determination to win, along with developing a close, indestructible bond between each other has not wavered. With this motivation, there is hope to build their foundation and move up in the Michigan Community College Athletic Association (MCCAA) standings.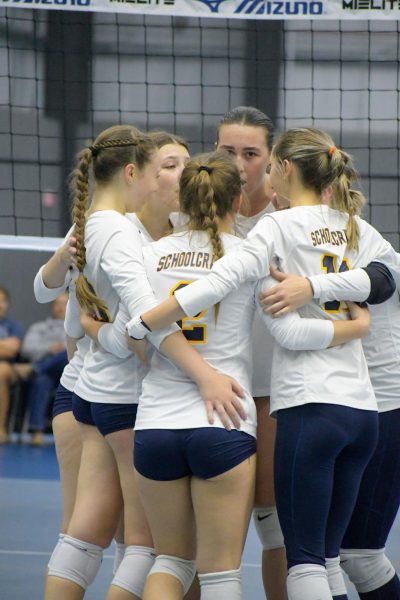 One of the four returners, right side/defensive specialist Brooke Crawford noted excitement for the new members of the team; pushing them to connect with each other, as well as the community. 
"Our freshmen are very hardworking and our mentality is on the same page this year: we're willing to work and win. I really believe that our bond is something special on and off the court," said Crawford. 
Regarding her own experience, Crawford, like many other college athletes, adores being able to play their sport and proudly represent their school. "Being a college athlete is definitely difficult, but it has been one of the best experiences I've ever had in my entire life and I'm so glad I took the opportunity to come play at Schoolcraft." 
Defensive Specialist/Libero Sophomore Evelyn Rummel agrees with Crawford, noting a positive difference in the bond of the team this year and the ability to proactively push each other in practices. 
"I would say that we're all friends off the court, as well as on. I think we work together really well. We definitely have been pushing and holding each other accountable, but in a positive way; there's not any negativeness and we're holding each other up. We're there to support each other in school too, especially the freshman." 
However, Rummel's beginning college sports experience is a little different than other returning athletes. 
"I never thought that I would be able to play in college, because I went somewhere else my freshman year, but I was able to come to Schoolcraft to play. I've loved it so much and I think this is one of the best experiences of my life, and I'm so glad that I finally was able to make that dream come true." 
One of the four new members on the team, Defensive Specialist/Libero Maya Pecovic has felt extremely welcomed by the returners and developed a bond so much faster than her prior experience playing on teams, which took years to establish. 
"I love the team. We built such a close, tight-knit bond together so quickly; which was very heartwarming. We work so well together, like I can't stop saying it. No matter what the outcome is, it'll happen together." 
With this eight women roster, Pecovic is confident the team has the hustle to make it to the postseason. Not only are the games important to her, but the experience itself is something she, and many of the players find the most fulfilling. 
"[Being a college athlete] is hard, but it's one of the most rewarding experiences ever and it's already so beneficial to my life. I see us working extremely hard, and we're going push through whatever [comes our way.]" 
Regardless of the scores, these ladies are not letting anything stop them from simply and genuinely loving their sport. Whether it's supporting each other on the court, or in their academics, their bonds will very likely carry over into the rest of their lives. 
For more information regarding rosters, schedules and results, as well as anyone interested in joining the Women's Volleyball team, visit www.schoolcraftocelots.com/