Simmering in success
Alumnus Kevin Wilson's journey from student to boss
Since graduating in 1989, Schoolcraft Culinary Arts alumnus, Kevin Wilson, has risen to the top of the culinary food chain as an executive chef at the Graduate Hotel of Ann Arbor. It's there that Wilson excels in overseeing food prep completion, writing daily special menus and ensuring that his crew is performing to standard. Wilson's responsibilities also extend to inventory and as he jokingly put it "occasionally washing dishes to escape the more stressful tasks" he has to do. "I grew up during the 70s with my mom's cooking almost every day," said Wilson. "I used to watch her and eventually she started teaching me. That's where my love for cooking came from and also why I decided to become a chef."
A few years later, during his time at John Glenn high school, Wilson took part in a vocational class and began to really hone his skills. When the time came to start considering a college degree, Wilson knew exactly where he wanted to obtain his culinary arts education, Schoolcraft College.
"There was no question about it," said Wilson. "Schoolcraft was the place to go if you were planning to enter this industry. It was already renowned and had great opportunities in terms of tuition and experience."
Wilson credits the knowledgeable and passionate instructors for his vast knowledge and success in the field. It was from instructors like chef Richard Benson that he learned the basics and how to operate in a real culinary setting such as the college's cafeteria. Although events like Culinary Extravaganza weren't around yet, Wilson still fondly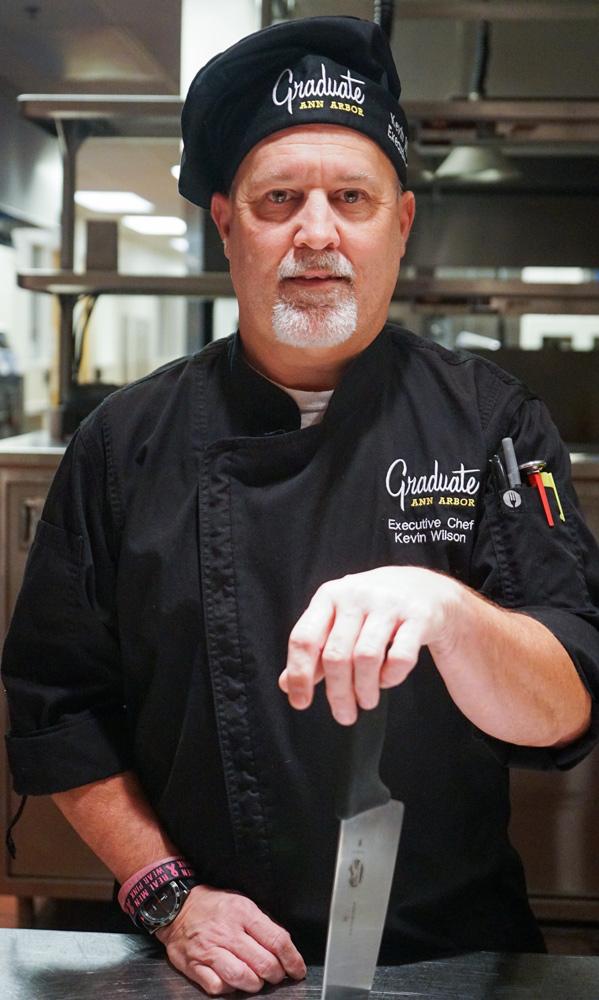 remembers competitions that he used to participate in with his fellow classmates.
"The VisTaTech Center wasn't even around yet, let alone American Harvest," Wilson laughed in reminiscence.
Although he wasn't a student when it was created, Wilson returned to his alma mater to visit the student operated restaurant after hearing about it from his son. He was amazed at how modern the atmosphere is and the multitude of learning opportunities that it provides for culinary students. Even with all the resources and chances to learn about the field, Wilson says he wishes he was aware of and that he wants other future culinary students to know.
"I'll always encourage young adults to pursue their dreams, but I think it's important to also be aware of the time that is demanded when you start," said Wilson. He explained that it's very challenging, especially once the person is married and has children.
For those interested in enjoying Wilson's work, consider visiting Graduate Hotel located in Ann Arbor or go to graduatehotels.com/ann-arbor/.
Photos by Clarisa Russenberger | Photo Editor