Braising the bar
Culinary Alumnus passing flavorful knowledge to aspiring culinarians
As many seasoned chefs know, 'braising,' is a term used to describe the process of searing at a high temperature before following with a slower and lower heat to enhance flavor and soften the food being prepared. Schoolcraft alumnus, Kevin Brennan, has certainly been 'braising' the culinary bar since his graduation in 1976 and continues to do so through his teaching.
After achieving executive chef status at the Detroit Athletic Club (DAC) and adding numerous awards to his name, Brennan has begun to grill the knowledge necessary for a simmering career into the minds of students while softening the idealized perspective of what an early career is like by sharing his own story.
"My decision to go into the culinary arts began with a job as a dishwasher in a convalescent home," states the 66-year-old alumnus. "I watched the chefs every day and was intrigued by their work. I began considering hospitality management and talked to my counselor at school who directed me toward Schoolcraft for their reputation as the best culinary school in the area." According to Brennan, his decision would turn out to be instrumental in broadening his passion and building the foundation for his career. At the time, the classes were small, which allowed for a more personable experience in which the instructors eagerly passed their passion on to him and other culinarians. However, his highest commendations for his alma mater was building the VisTaTech Center for future students' learning and inviting chefs Benson and Decker to teach these students.
"When I attended culinary school, we learned by helping to run the cafeteria and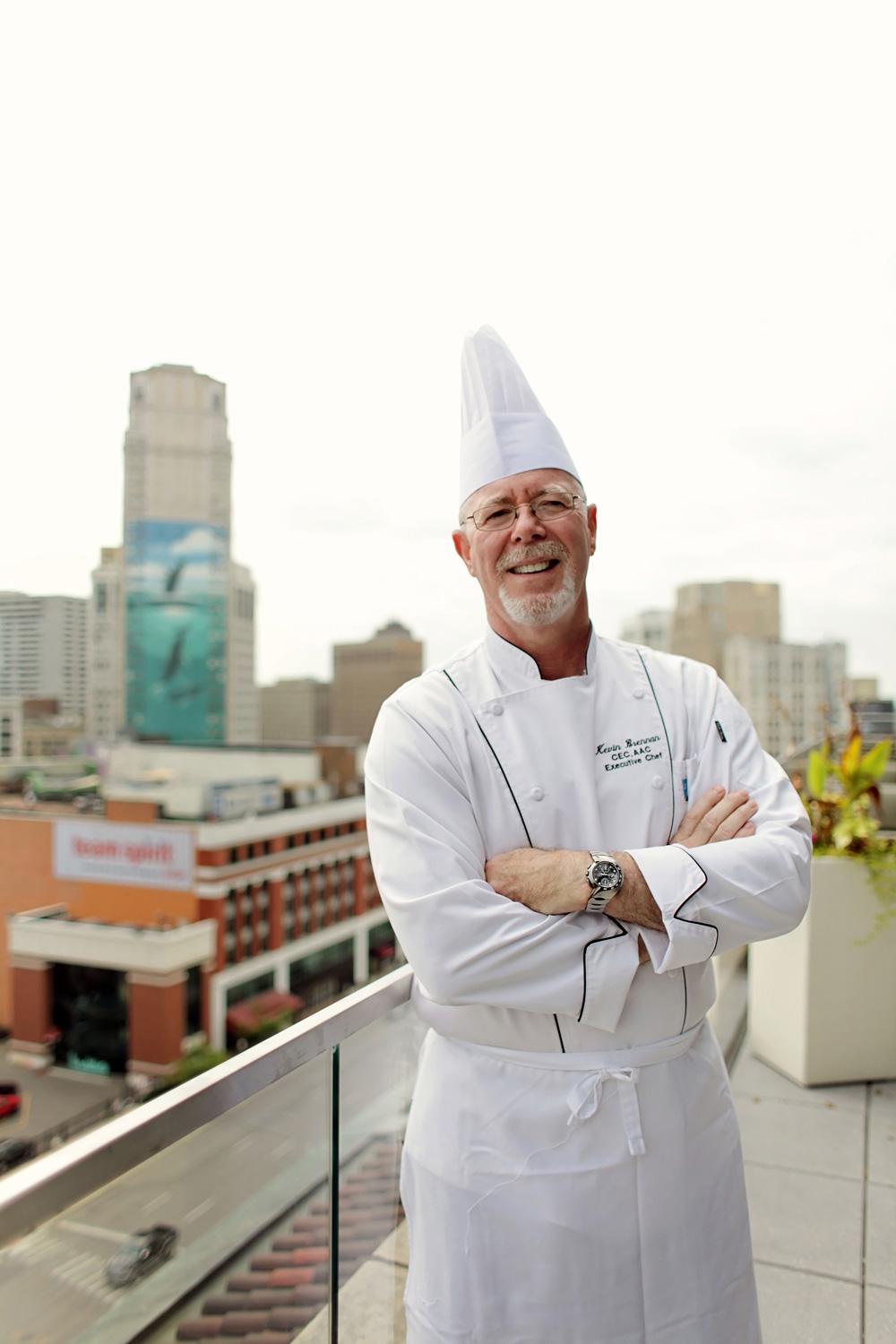 competing in friendly competitions with Oakland Community College," Brennan commented. "It motivated us to consistently improve our craft, but it's wonderful to see how the college has developed with American Harvest and other opportunities."
After graduating in '76, Brennan would jump into a 90-hour week job that would challenge him as he married and started a family.
He began working at the Recess Club in '79 and became an executive chef in '82. A few years later, he joined the Orchard Lake Country Club before ultimately settling at the Detroit Athletic Club where he's worked for the past 26 years.
Today, Brennan commands 70 culinary and 32 stewarding members at the DAC while working to accomplish his goal of spreading his knowledge to eager culinarians and creating a place of balance for them to learn and live before retiring.
He also serves his community and builds his reputation by selling $11 million worth of food and beverages as well as becoming a founding member of the Michigan Chefs against Hunger. Brennan has also caught the eyes and recognition of the American Culinary Federation (ACF) with 3 Achievement of Excellent awards, gold and silver medals from competing in culinary salons and even a presidential medallion from Michael Ty. Above all, when asked to reflect on his path and on advice he has to offer to future culinarians, he replied:
"Make sure it's what you want and put the time in. There's no fast track in this field, but the best course is to invest in yourself and your craft. In my experience, the difficult times are worth it when a shift feels as if it's been a few minutes as opposed to several hours. Time flies when you do what you love and have fun doing it as I have for many years now."
Those interested in Brennan and his work at the Detroit Athletic Club can view the website for dress code and appropriate entrances for visitors at thedac.com. The institution located at 241 Madison St. in Detroit, Mich.
Photo courtesy of Kevin Brennan (Certified Executive Chef)