Sponging it up
Alumnus, Ferris Anthony, urges culinarians to be lifelong learners
It may seem cliché that many young culinarians share the same humble beginning of a position in food services that ultimately leads to falling in love with the field and the decision to attend culinary school. However, this commonality is the proof in the pudding that one must try before discovering a life-changing passion. Twenty-nine-year-old alumnus, Ferris Anthony, is living proof of this notion and that starting off at an entry-level position has the potential to take one farther than they ever thought possible.
"I've been working in restaurants since I was 16. It's the same cliché story of starting as a dishwasher at a local diner called "Guernsey Farms Dairy" in Northville," states Anthony in regards to his background. "I would look at the line cooks in awe and I knew that I wanted to be one. I worked my way up, eventually became one [and] I fell in love with the fast-paced, high stress, incredibly rewarding environment."
Once Anthony discovered his purpose, he pursued it with fervor. He knew that if he wanted to turn this into a career that he would need to consider his options. Having grown up in Novi, he chose the budding Schoolcraft College Culinary Arts program to learn and grow in his craft. Anthony attributes his decision to the fact that some of the best local chefs were bred there and the presence of five American Culinary Federation (ACF) Certified Master Chefs at the time.
"If you want to be the best, you have to learn from the best," Anthony commented on his choice. "One of the things I enjoyed the most about Schoolcraft's culinary program was the camaraderie and having Chef Daniel Hugelier and Chef Marcus Haight as amazing role models throughout the program."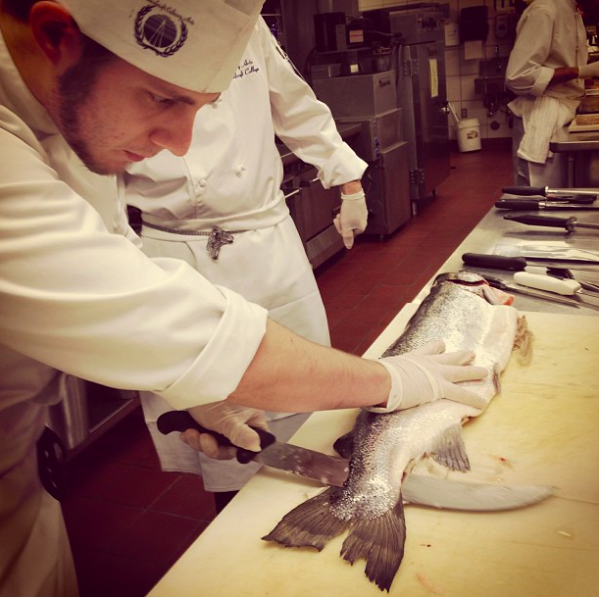 Thus, Anthony entered the program and completed his Culinary Arts degree in 2014. He credits his great base knowledge of classical cooking techniques and organizational skills to the college. In addition to this, Anthony also extends gratitude to the college for its cooperation with other universities in the area.
Like other alumni, this factor set him up for the next step in his education when Anthony transferred to Madonna University. It was there that he earned, and graduated with high honors, a bachelor's degree in Hospitality Management and a minor in Business Administration.
Today, Anthony works as the Director of Food & Beverage Operations at The Renaissance Baronette Hotel's Toasted Oak Grill & Market. This business is managed by Concord Hospitality Enterprises and allows the alumnus to manage all food & beverage operations, including a full service "farm-to-table" restaurant, over 8,000 square feet of banquet space holding large events of a maximum 450 guests, and the supervision of all kitchen operations. Though this may sound like quite a plate full of responsibilities, this is not the end of Anthony's grocery list.
In addition to those tasks, he also manages staff, administration duties, financial management, vendor communications and the business's social media as well.
"As I progress in my career, I hope to take on more responsibility in financial management and operations. I love what I do and currently work with an incredibly knowledgeable team," said Anthony.
All the knowledge acquired from Schoolcraft College and Madonna University would lead Anthony to earn Leader of the Quarter by The Renaissance Baronette Hotel in 2016 and the President's Circle Award in 2017. The second award is Concord Hospitality Enterprise's most prestigious award for dedication to the Concord cornerstones of hard work and exemplary performance. In addition to these two impressive accolades, Anthony and Toasted Oak Grill & Market were also given an Award of Excellence and The Best of Award of Excellence by Wine Spectator Magazine in 2019 and 2020, respectively, for curating a list of divine wines for guests' enjoyment.
Reflecting upon his journey, Anthony leaves this advice to aspiring culinarians:
"Don't stop being a sponge. Even after culinary school, there are so many people in the industry that can offer guidance and education. Keep pushing just as hard as you do in culinary school and it will eventually pay off. There will be discouraging moments in your career and you need to know that they will only make you stronger in the long run."
For those interested in learning more about Toasted Oak Grill & Market, please visit toastedoak.com/ or consider visiting the location at 27790 Novi Road, Monday through Saturday from 5 to 9 p.m.