Mental illness during COVID-19
Focus Series discussion highlights pandemic's effect on mental health in African Americans
When one reflects on how society looked mere months ago, it's not very difficult to comprehend how the COVID-19 pandemic has the potential to affect mental health. In fact, some populations might be more at risk for mental illness and suicidality due to the stress the virus has placed on them socio-economically. This is the exact idea that the Schoolcraft College International Institute would like to highlight Oct. 6 from 11 a.m. to 12:30 p.m. through a discussion with speakers Tinetra Burns (Clinical Specialist), Andrea Smith, (Director of Workforce from the Detroit Wayne Mental Health Authority) and Daicia Price (Clinical Associate Professor of Social Work from the University of Michigan).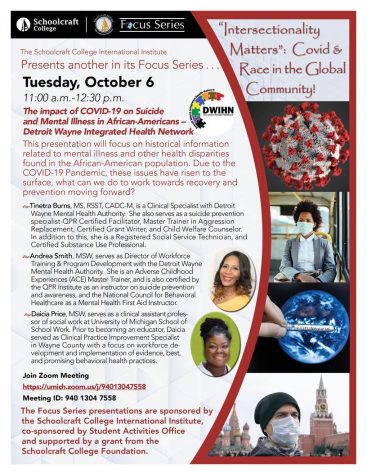 "Each year, the International Institute committee selects a region and the themes that we highlight for the academic year with the target audience being students, faculty, staff and the greater community," states English Professor and International Institute Co-Chair, Helen Ditouras.
Since 2004, the Focus Series, International Institute and Student Activities Office have been striving to coordinate cross-cultural learning opportunities for students with the intention of increasing their appreciation for the diversity, commonality and influential forces affecting the world around us. This is established and supported by the institute inviting guest speakers from other higher-education institutions, community organization leaders and targeted field experts. In addition to welcoming global guests to the college, Schoolcraft also encourages and supports their use of presentations, displays and more to engage the audience and focus their attention on the committee's annually selected topic.
"The specific focus this year is on a topic that has affected all of us in some manner, COVID-19," Ditouras continued. "The pandemic has truly highlighted how sickness can affect people of all races and creed in various ways. We hope that our community will join us on this virtual journey."
For those interested in attending this virtual voyage, please use the meeting ID: 940 1304 7558 to enter the Zoom session Oct. 6 at 11 a.m. To obtain more information about this event, please contact Helen Ditouras at [email protected].
Photo courtesy of forbes.com.