Sink or swim
Alumnus, Nick Mannisto, defies odds to launch food truck
It was in the dog days of August that 27-year-old alumnus, Nick Mannisto, found himself caught between the devil and the deep blue sea. The COVID-19 pandemic was at its climax, small businesses were shackled by the necessary, and albeit crippling, restrictions to keep both customers and owners safe. Like others, Mannisto was launching a business of his own: "Captain's Wood Fired Pies" – a food truck meant to travel the country, providing pies patiently baked at a lower temperature and topped with homegrown veggies. 
As he came face to face with a major obstacle, Mannisto had to make a fight or flight decision — should he wait or should he set sail and brave the choppy waters of the pandemic? The fondly coined "Captain" of the portable pizzeria chose the latter and come hell or high water, he was determined to make it a success.
"Many people asked why I would want to start a business during COVID-19, when everyone is struggling financially, and people can't be in public," Mannisto said. "However, I believe that this was a better option because it allowed for a takeout option and prevented large gatherings. The pandemic shouldn't stop me or anyone else from following their dreams."
Humble beginnings
As every master of their field knows, it all begins somewhere and for Mannisto this was at an Eagle Scout meeting he had at the age of 15. The young and undiscovered culinarian had his heart set on becoming a weatherman, but soon found another avenue when he blew fellow scouts out of a culinary competition with a Dutch Chicken, that according to him, is still raved about to this day. Soon enough, Mannisto found himself at Howell High School where he worked at the famed "Highlander Café." It was at this school steppingstone that the culinarian made his bones, arranging game dinners, catering and even participating in state competitions.
"Thanks to my experience in high school, I was able to find and tour Schoolcraft," Mannisto explained. "It was the place to be if you wanted to go into the culinary arts and I knew since grade 9, when I saw one of the chefs doing a demonstration, that I wanted to go there."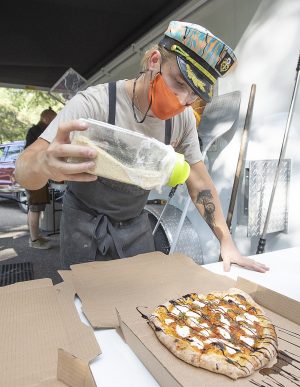 Learning from the best
Thus, the early landlubber set out on foot to earn his degree and begin forging the road less traveled. During his time at Schoolcraft, Mannisto had the pleasure of learning life skills by working alongside Banquet and Catering Food Services Executive Chef Aaron Cook, several national Certified Master Chefs and participating in popular events at the College like the Culinary Extravaganza. Each chef and each experience allowed him to bring his skills and knowledge to the kitchen table with a new lesson to be learned each time.
"All of the chefs at Schoolcraft had their own expertise, their own way of teaching and their own advice for me. However, if I had to recognize anybody, it would be Chefs Marcus, Loving and Gabriel for their dedication to their craft and their students," Mannisto continued.
The alumnus completed his degree in 2015 and strives to one day become a James Beard nominee similar to fellow culinarian and Selden Standard pastry chef, Lena Sareini, whom he knew as a Sous Chef under Chef Joe Decker. In addition to his admiration for Sareini, the alumnus offers the highest of commendations to past classmate, Rachel Barnett, for her work in continuing education in Italy. 
Paying it forward
Much like these other talented chefs, Mannisto has his own dreams to chase, including a business that supports urban farming, offers education to other aspiring alumni and making pies that gives back to the community it feeds. He expands on these ideas by explaining the following goals he set forth for "Captain's Wood Fired Pies."
"I already own a plot of gardening land in Lansing that my girlfriend and I tend. Our hope is to purchase another plot in Howell closer to home. In addition to growing our own produce, we also purchase from fellow farmers to support them and because their products often keep for much longer and are overall cheaper. I want to strengthen the connection that comes from picking a vegetable, placing it on a pie, cooking it and consuming it for my customers. There's nothing like that experience. In time, I hope to expand the menu to all wood fire cooked food, including coffee, steak and pasta. Hopefully, we can manage this on the truck, but it is a definite possibility for a future brick and mortar restaurant."
So, it goes, Mannisto drives all around Michigan paying it forward and developing his earthy-themed trailer to various locations such as music festivals, farmers' markets, subdivisions and more. 
Wherever the mobile pizzeria docks, Mannisto, his parents and his crew of team members – Anthony DeChavez, Jacob Hanson and Paula Woods – all ensure that customers see their food being cut and cooked in front of their eyes to develop the produce-consumption bond.
Mannisto facilitates this by offering a plethora of pizza, ranging from Korean BBQ to a Cuban style pie. Currently, this menu changes each week as the alumnus does not have a concrete viewing menu for the average 100 customers he serves per day. Although the alumnus has some improvements to make, Mannisto still strives to give back to his alma mater's café, to donate funds toward training therapy dogs like those that assisted a dear friend who passed from colon cancer a few years prior to the start of his journey and to assist in natural disaster relief efforts.
"We also participate in the Rainbow Connection and Fleece and Thank You as well. Our hope is to pay it forward as the business takes off," Mannisto said. "The best way for us to do that and share our future events is through social media. This is part of the best advice I can offer, establish a connection online and second, never stop learning and following your authentic purpose."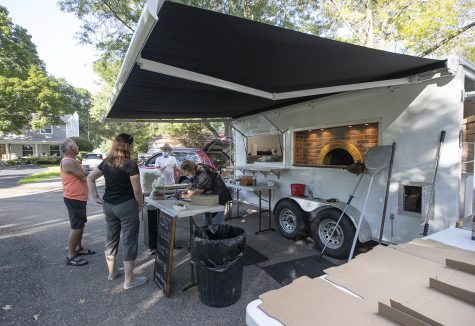 For more information on "Captain's Wood Fired Pies" and to find their latest event schedule, follow Nick Mannisto on Facebook at @CaptainsPies, on Instagram at @Captains_Pies.