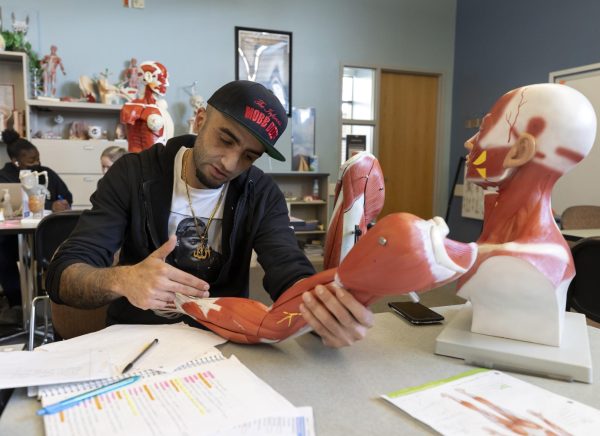 The Learning Center, one of the most frequently visited places on campus due to its location in the Bradner Library, might seem well-known; however, considering its value, I am often surprised by how many students are unfamiliar with or do not utilize this facility enough.
As a math and biology tutor at the Learning Center, I was once a student who sought help there. Relating to parents with children and a ten-year break from school, returning to pursue one of the most challenging majors of Nursing, was initially daunting and overwhelming. I had no idea where to start until I turned to the Learning Center for assistance. The tips and guidance I received from tutors helped me conquer the tough Anatomy and Physiology class. As a result, I excelled in my first semester and eventually became a Learning Center member, offering help to other fellow students who may be struggling as much as I did.
What makes the Learning Center so special? 
Not everyone's schedule aligns with professors' office hours, but engaging with peers is more feasible. Tutors who have experienced the same courses as students and succeeded, can share their insights, strategies and know what it takes to excel; including helping students avoid pitfalls. 
The tutors receive training and are well-versed in the campus resources available to students. The team's motives are really to assist students without judgment and are focused solely on helping students thrive. For instance, I once helped a struggling student find a computer by connecting with my advisor and directing them to the Hinkle Center.
The Learning Center is also a lifeline for parents juggling work, kids and school. Sharing their frustrations and feeling heard fosters better mental well-being. While I can't offer advice, lending an empathetic ear makes a significant difference.
The colleagues within the Learning Center team contribute to its uniqueness: they exemplify hard work and success, along with remarkable humility. Being surrounded by like-minded colleagues serves as motivation. 
Lastly, the Learning Center Coordinator Elizabeth Kenney who manages the tutor team is calm and approachable; she is proof that effective leadership need not rely on ego or toughness. Kenney believes that every student has the capability to overcome challenges, build confidence, and achieve academic success. 
"Through the Peer Assisted Learning (PAL) Program and drop-in tutoring services, our team in the Learning Center is here to help each student along their academic journey. Within our department of Learning Support Services, we also have Academic Success Coaches and Librarians on staff to support students," said Kenney.
The Learning Center truly is a gem for numerous reasons. While often associated with aiding struggling students, it benefits everyone. 
As a tutor and PAL, I still switch roles and visit the Learning Center for help in my own classes. It is most definitely a department all students should utilize, and they always love visits! 
For more information on the Learning Center, please visit their website at www.schoolcraft.edu/
Learning Center Hours of Operation:
Monday, Tuesday and Thursdays: 9am-7pm
Wednesdays: 9:30-8pm
Fridays: 10am-4pm
Saturdays: Noon-4pm