Open for business
Fitness Center reopens with restrictions
When Michigan shut down back in March due to the pandemic, no one could anticipate how long we would be quarantined for. Fast forward five months later, while we aren't out of the woods yet, we are seeing some normalcy return in Michigan as gyms reopen. This includes our Fitness Center, a campus staple.
Governor Gretchen Whitmer announced on Sept. 3 that under Executive Order 175 and 176, Michigan and gyms and pools would be allowed to reopen starting on Sept. 9. Social distancing guidelines are still being implemented and facilities can only operate at 25 percent capacity with all attendees required to wear masks, even when working out.
While the first couple of weeks of reopening will have more restricted hours than usual, operations are expected to pick up closer to their normal hours as Fall continues.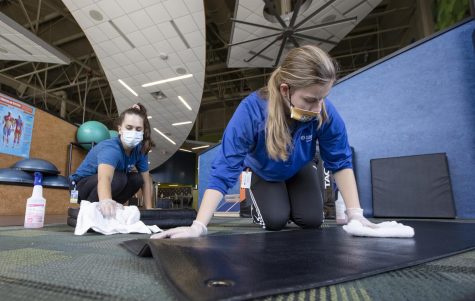 "We were all certainly surprised that gyms and Fitness Centers would be closed for so long," stated Patty Donohue-Ebach, Schoolcraft's Recreation Manager for the Fitness Center and Sports Dome. "But, we worked all summer to put plans in place for a safe re-opening and are thrilled to reopen again and start servicing all of our members. We feel that most of our members will eventually return to the Fitness Center, however, some will be hesitant for their own personal reasons and will most likely rejoin when they feel more comfortable with the state of the virus and or their own personal or family health situations."
Students looking to sign-up or workout can stop by the Fitness Center, located on the Schoolcraft's main campus, Monday through Friday from 8 a.m. to 6 p.m. While weekends have yet to make the schedule, increased demand may bring the weekend hours back.
For credit students looking to get registered for the first time or if you've already signed up in a previous semester, all you need to do is bring a copy of this semester's schedule to the Fitness Center to confirm your student status. Credit students have a free membership, but other membership options are available to the community as well.
For more information about memberships at the Fitness Center, visit schoolcraft.edu/fitnesscenter/membership.
"We will also be bringing back some lap swim hours in the pool and racquetball and wallyball court reservation options in the coming weeks," states Donohue-Ebach. "Locker rooms will be available in the PE building as well."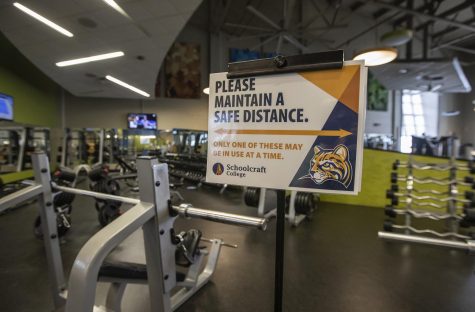 While the Fitness Center will only be able to house around 52 people for the time being, anyone looking to work out can and will have the opportunity to do so. Unfortunately, this year will look a little different from the Fitness Center in terms of their competitive events like Fall Frenzy, but the hope is that normalcy will continue to return into next winter.
Student Employees and Fitness Center staff are working hard to keep the facility clean for all visitors.
"We will offer a safe, clean facility and staff will be available, as always, to answer questions and help all members get started again with their workouts," said Donohue-Ebach. "Unfortunately, we probably won't be able to run some of our most beloved traditional Fall programs (like Fall Frenzy on the Expresso bikes), however, the full facility will be available for workouts five days per week and so that is good news. We hope to bring back some more member programs and challenges in the winter semester."
For more information and to stay up to date with the latest news regarding the Fitness Center, follow them on Facebook, Instagram and Twitter. You can also visit schoolcraft.edu/fitnesscenter.
For additional questions, you can reach out to the Fitness Center at 734-462-4348 or at [email protected].