The Schoolcraft Connection holiday favorites recipes
Compiled by Chrissy Begle, Layout and Design Editor
The Schoolcraft Connection wanted to share some of our favorite holiday recipes with you, so we asked our staff to tell us a favorite holiday recipe and why it was their favorite. We will post a few each week until our next issue is published on January 22, 2018. Here is today's recipe—let us know if you try it and if you liked it!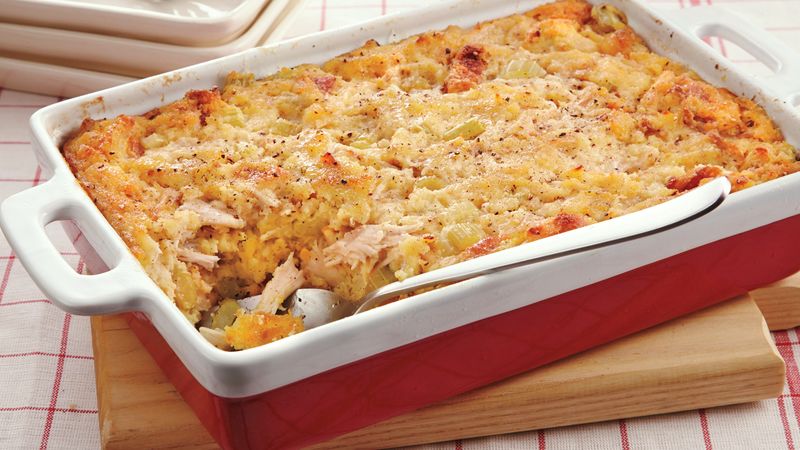 "My great-grandmother made Chicken and Dressin' every year for every holiday. Every bite brings me back to when I was 5-years-old, running around the Christmas tree."
–Christian Hollis, Managing Editor
Ingredients:
1 deli rotisserie chicken (2 lb), skinned, boned and shredded (about 4 cups)
6 c. coarsely crumbled cornbread
8 slices (1 oz. each) firm white bread, torn
3½ c. Progresso™ chicken broth (from 32-oz carton)
2 cans (10¾ oz. each) condensed cream of chicken soup
1 medium onion, chopped (½ c.)
3 stalks celery, chopped
4 eggs, slightly beaten
2 tsp. ground sage
½ tsp. pepper
¼ tsp. salt
½ c. butter (do not soften)
Directions:

Heat oven to 400°F. Spray 13×9-inch (3-quart) glass baking dish with cooking spray.

In large bowl, stir together all ingredients except butter. Spoon mixture into baking dish.
Use a hand-grater to grate firm butter over the top, evenly.

Bake uncovered about 45 minutes or until bubbly and golden brown.