Pumpkin spice cake ball recipe
The Schoolcraft Connection holiday favorites recipes
By Alexis Tucker, Arts and Entertainment Editor
The Schoolcraft Connection wanted to share some of our favorite holiday recipes with you, so we asked our staff to tell us a favorite holiday recipe and why it was their favorite. We will post a few each week until our next issue is published on January 22, 2018. Here is today's recipe—let us know if you try it and if you liked it!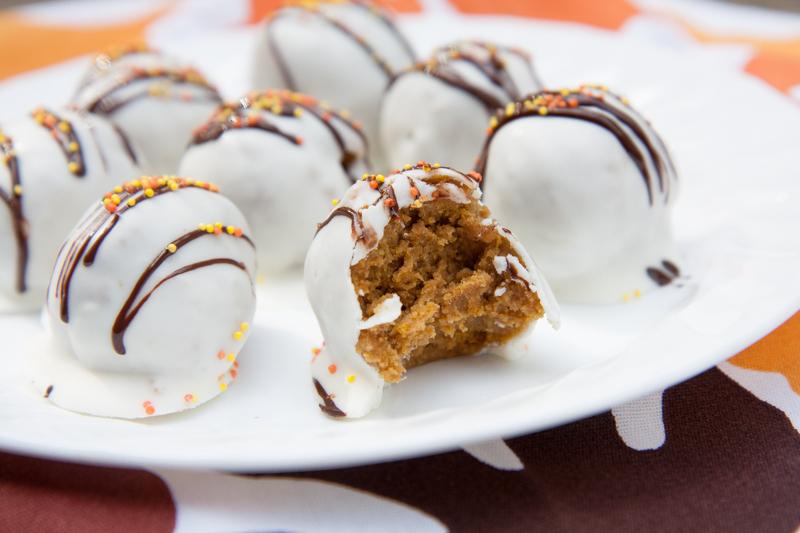 "Pumpkin spice balls taste really good and remind me of the holidays."
–Alexis Tucker, Managing Editor
Ingredients:
FOR THE CAKE:
1 box spice cake mix
3 eggs
1-15 oz. can of pumpkin puree (about 2 cups)
FOR THE FROSTING:
4 oz. cream cheese
½ stick of butter, softened
1 ½ c. powdered sugar
½ tsp. vanilla extract
FOR THE COATING:
1 lb. Vanilla candy coating
1-3 tbsp. vegetable oil
1 oz. Semisweet chocolate chips
Sprinkles
Directions:
Preheat oven to 350°F. Grease and lightly flour 2 cake pans, set aside.
In a bowl combine the cake mix, eggs and pumpkin puree, mix on medium speed until light and fluffy. Divide the batter between the cake pans and bake in oven for 25-30 minutes or until toothpick inserted in the center comes out clean. Let the cake cool completely.
To make the frosting, beat the cream cheese and butter in a bowl. Add the powdered sugar, ½ cup at a time until smooth
To make cake balls, break up the cake into a large bowl, add the frosting and using clean hands, smoosh it together until well mixed. Using damp hands, form the mixture into 1″ balls and place on baking sheet. Place filled baking sheet in freezer.
While cake balls are chilling, melt the candy coating in a saucepan over low heat, until smooth. Add the vegetable oil a tablespoon at a time until mixture is the thickness of a thin alfredo sauce. Do not try to thin with milk or water, it will become clumpy. Turn off the burner.
Remove the cake balls from the freezer and one at a time gently into the coating and spoon over the top to coat. Fish out the ball with a spoon and place on wax paper to harden. Repeat until all cake balls are coated. There should be roughly 3 dozen cake balls.
For decoration, melt the semisweet chocolate chips in the microwave and drizzle on the cake balls and top with sprinkles.